4 Strategies for the Perfect Year-End Giving Campaign
| Written by
Jackson River
|

Back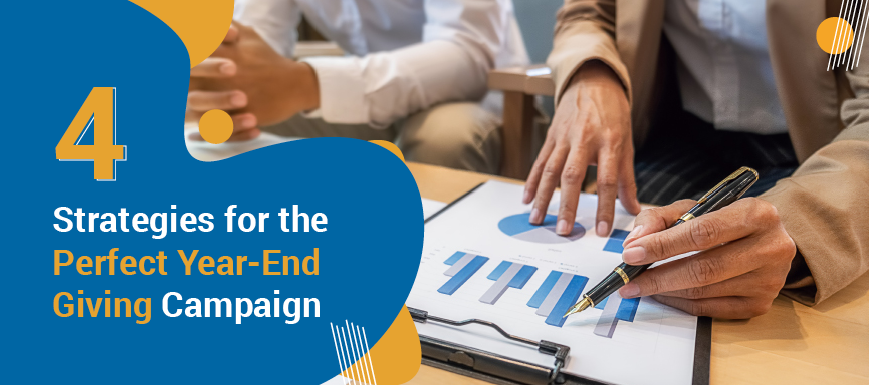 The end of the year is the perfect time for your nonprofit to amp up its fundraising strategy. With Giving Tuesday and the holidays just around the corner, your nonprofit has plenty of opportunities to expand its reach, build relationships with supporters, and boost revenue to finish the year off strong. In fact, it's estimated that 31% of annual giving takes place in December and 12% of all giving occurs in the last three days of the year.
To make the most of this giving spirit, your nonprofit needs to plan an engaging year-end giving campaign. This means that you'll need a marketing, communication, and fundraising strategy guaranteed to stir up excitement and maximize support for your cause. After all, your nonprofit isn't the only one making donation appeals during this period. Developing a compelling case for your organization is more important now than ever.
While this might seem overwhelming, the right software can streamline the entire process so you can focus on advancing your mission. To help your nonprofit increase its end-of-year giving, this guide will cover:
The clock is ticking, so crafting your fundraising strategy today will put your nonprofit in the best position to hit your annual goals. Let's begin!


Year-End Giving FAQs
What is a year-end giving campaign?
A year-end giving campaign is a focused effort to maximize fundraising around the holidays. While many nonprofits launch their year-end giving campaigns before Giving Tuesday, or the first Tuesday after Thanksgiving in the U.S., some start as early as October. Starting sooner than later is always preferred; however, your nonprofit can still run a successful campaign starting in mid-November, at the latest.
Year-end giving is the final push before the new year, so it's important that your nonprofit puts its all into planning a smart and strategic campaign. Between deciding how to market your campaign, which donors you'll target, and how you'll actively track data and analytics to adapt your strategies as needed, end-of-year giving can quickly become complex. This is where active preparation becomes essential.
Remember, this isn't a one-person job for your fundraising chair! You'll need all hands on deck, including board member support, volunteer support, and of course, donor support to help your nonprofit reach the end-of-year finish line.
What are the different types of year-end giving campaigns?
There are plenty of fundraising activities to choose from for your year-end giving campaign. The ideal fundraising tactic for your organization will largely depend on your budget and audience's interests. While there isn't a one-size-fits-all answer, there are a few tried and true fundraising strategies you can explore to excite supporters and motivate them to give:
Peer-to-peer fundraiser.

Peer-to-peer fundraising empowers your supporters to take the reins on fundraising. With the right technology, supporters can create their own fundraising campaign pages and share them widely throughout their personal network. Because of its flexibility, peer-to-peer fundraising can work as a standalone online fundraising campaign or be paired with an event.
Product fundraiser.

With a product fundraiser, your supporters get to purchase exciting items and your nonprofit earns the proceeds—it's a win-win scenario! You can easily weave in the holiday theme by selling delicious treats like cookies and candy canes or decorations like ornaments. Sell the items online and arrange for a smooth pick-up or delivery process so donors can enjoy their products by the holidays.
Sustainer upsell.

Tap into your existing donor base to

encourage recurring donors

to give more during this time. Recurring giving is a great way to build a reliable donation pipeline that will carry over into the next year. Create segmented emails and conduct outreach to your recurring donors to send your year-end donation appeal.
Standard online fundraiser.

Develop a fundraising campaign webpage that streamlines the donation experience and makes a strong case for supporting your nonprofit. This page should be branded to your organization and explain how the funds raised will be used. If you're not planning to pair your online fundraising with a virtual or in-person event, you'll need to go the extra mile in carrying out a robust marketing campaign.
In-person event.

An in-person event, like a live auction, holiday party, or concert, can bring your community together and bring out the giving spirit. While this will require more overhead costs and considerations—like reserving a venue and booking catering —in-person fundraising can help donors feel more engaged and emotionally connected to your cause.
A great way to start your year-end giving is by participating in Giving Tuesday. Giving Tuesday is a global generosity movement to support nonprofits and the communities they serve. As the second largest giving day after December 31st, Giving Tuesday is a great opportunity to raise serious funds to go back toward your cause. Use any of the ideas above to create a Giving Tuesday campaign that is designed to create urgency and make supporters more passionate about your mission.
Why is year-end giving valuable?
Backed by a strong fundraising strategy, end-of-year giving can be incredibly rewarding for nonprofits. In fact, 28% of nonprofits raise between 26-50% of their annual funds from their year-end campaign. During November and December, an average of $48 billion dollars is donated each year to nonprofits by millions of people. People are eager to support an important cause before the year is over in order to feel more connected to their community and be a part of change.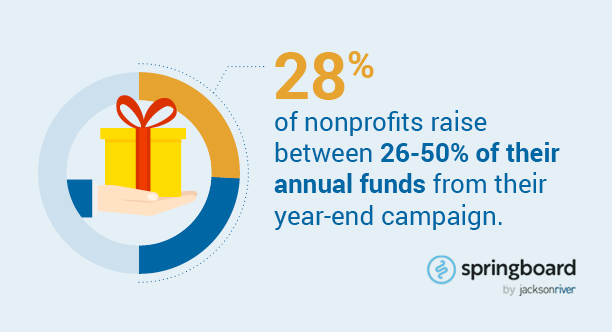 A well-developed campaign will not only help your organization maximize revenue, but will also open your nonprofit up to new audiences. Year-end giving is the perfect opportunity to reach new supporters with an interest in your cause and convince them that you're the right nonprofit to support. Then, you can work towards building relationships and retaining their support during the new year.

Year-End Giving Strategies
Before you can jumpstart your year-end giving campaign, you need a plan of action. This will give you a clear roadmap for how you'll execute your campaign to earn as much support as possible. To get you started, explore these essential end-of-year fundraising strategies.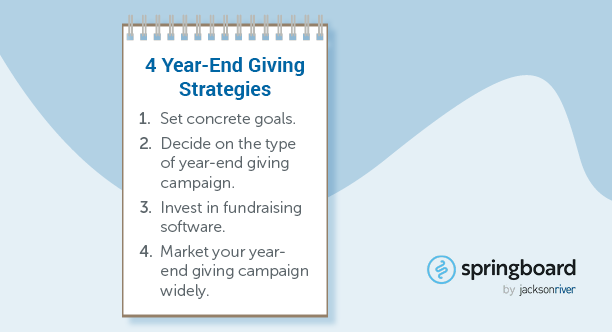 1. Set concrete goals.
Your nonprofit needs to set ambitious, yet reasonable goals that you'll work towards achieving. If you ran a year-end giving campaign in the past, reflect on how much money you raised, how many donors you reached, your donor conversion rate from your communications, and more. This will provide invaluable insight into how you can reshape your strategies for this year and the new goals you should set.
You'll also need to decide on logistical details like the timeline for your campaign and when you hope to achieve certain objectives. Planning your campaign as early as possible is key to maximizing support for your organization. After all, how can donors give to your campaign if they don't have enough notice? Your organization will need to brainstorm strong communication and marketing strategies that will keep donors informed, engaged, and eager to give.
Meet with your nonprofit's board and volunteers to gather different ideas and delegate responsibilities. End-of-year fundraising is a huge project that requires a significant time commitment, so ensure that everyone on your team is willing and able to contribute.
2. Decide on the type of year-end giving campaign.
There are many different fundraising styles your nonprofit can incorporate into its year-end campaign. As discussed earlier, your organization may be interested in launching a peer-to-peer fundraiser or even hosting a holiday party to increase excitement. Since year-end giving is highly flexible, you can even combine different fundraising types together so you can appeal to different donors' interests.
If your organization chooses to host an in-person, virtual, or hybrid event, you'll need an engaging fundraising idea. A holiday-themed idea can stir up passion for your cause and motivate people to give. For example, your nonprofit could consider hosting any of the following:
Themed walk-a-thon.

Add a twist to this classic fundraising event by inviting your supporters to wear ugly holiday sweaters, dress up as their favorite holiday movie character, or other fun challenges tied to the holiday seasons.
Holiday concert.

Ask a local band or musically talented volunteers to perform classic holiday songs in-person or through a live stream.
Decoration workshop.

People love decorating their homes during the holidays, so invite them to a workshop dedicated to creating custom ornaments, lawn decorations, or other fun items to celebrate the end of the year.
Your nonprofit can charge a registration fee and even run an online fundraising campaign in conjunction with your event to open up another revenue stream. This way, people that can't attend your event can still support your nonprofit's cause by donating.
3. Invest in fundraising software.
Year-end giving campaigns have a lot of moving parts and can easily get overwhelming. To streamline the planning and execution process, your nonprofit needs to work with a comprehensive fundraising software you can trust.
Springboard by Jackson River is the best fundraising platform to meet your nonprofit's unique needs. With its digital-first approach, Springboard has a robust set of tools to create an authentic donor experience and assist your organization with its entire fundraising campaign, from beginning to end.
For years, Springboard has helped nonprofits of all sizes meet and exceed their fundraising goals. In 2020, Springboard helped organizations raise over $7 million, and in 2021, this number jumped to over $10.7 million.
Springboard's intuitive features include the following:
Customizable website builder.

Springboard empowers your organization to easily create fundraising websites carefully tailored to your audience's interests. If you're hosting a peer-to-peer fundraiser, volunteers can easily create their own unique pages that they're proud to share with their personal networks. Plus, Springboard makes it simple to add in your unique branding elements, such as font, color scheme, and images so your site can accurately represent your nonprofit.
Social media integrations.

The key to running an end-of-year giving campaign is marketing your campaign to as many people as possible. With Springboard's social media integrations, you can easily share your mobile-optimized donation page across popular platforms like Facebook to reach new donors and connect with existing donors.
Automated sustainer upsell.

To build a reliable donation pipeline, your nonprofit needs helpful tools aimed at encouraging recurring giving. Springboard's

automated sustainer upsell

helps you target good candidates for recurring giving and motivate them to give more with a one-click sustainer upsell option.
With Springboard on your side, your nonprofit can increase its engagement and drive donations for a more successful and stress-free fundraising campaign. As a result, you can focus more on advancing your mission.
4. Market your year-end giving campaign widely.
If your donors don't know your fundraiser is taking place, they won't give to your organization. This is where a strong marketing strategy comes into play. Your nonprofit needs to create a multi-channel marketing approach to get as many eyes on your fundraising campaign as possible.
There are many ways you can get the word out about your year-end fundraiser. Consider using the following platforms to broaden your reach and ensure donors learn about your campaign:
Email.

Your audience is more likely to act on donation appeals that are specific and relevant to them, so send targeted communications to subsets of your audience. For example, you can create segments based on donation frequency, recency, and amount so you can effectively encourage different types of donors to give. Make your call-to-action clear and incorporate storytelling elements to develop a strong case for your organization.
Social media.

Create and share engaging graphic designs explaining your fundraiser's purpose and how the funds will be used. If you've held a year-end fundraising event in the past, you can include images or videos from this to create excitement over your upcoming fundraiser. Make sure to post on platforms where your supporters are guaranteed to see your content.
Your nonprofit's website.

Your website is the foundation of your nonprofit's digital presence, so it makes sense to use this to broadcast your fundraising campaign. Create a call-to-action link on your homepage directing users to your donation page or event landing page. This way, when prospective or existing donors land on your webpage, they can easily learn about your year-end fundraiser and how they can get involved.
Actively track metrics like donor conversion rate and engagement so you can adapt your marketing strategies as needed to expand your reach. At the end of your fundraiser, reflect on ways you can improve your donor communications for the future.
Remember, your communications shouldn't end just because your fundraiser is over! Share your fundraising results and express heartfelt thanks for your donors' contributions. You should also offer other ways they can stay involved in the new year.
Conclusion
This holiday giving season, take your nonprofit to new heights with a strong year-end giving campaign. Use Springboard by Jackson River to drive donor engagement and access the tools you need to meet your fundraising goals.