Software Solution to Benefit Public Media
Springboard's digital-first platform allows public media organizations to confidently elevate pledge drives and fundraising efforts. The donor experience is improved through flexibility and customization and encourages increased engagement.
Here is a Sneak Peak...
Features Advantageous to Public Media
Focused on pledge drives, premiums, and sustaining members for Public Media Organizations.

Online Pledge Drives
Generate audience excitement and grow more pledges using goal maps and real-time studio dashboards.

Premium Management
Manage inventory and distribution of single or multiple premiums in a more efficient and organized manner.

Sustainer Migration
Encourage sustainers with one-click upgrades and billing updates with the Springboard Payments feature, gift management portal, self-service tax receipts, and more.

Creative Campaigns
Deliver dynamic and personalized communications using customizable layouts, flexible and multilingual forms, social sharing, and tracking.

Mobile Ready
All supporter touchpoints are natively responsive for mobile, tablet, and desktop, to your specifications, with a mobile-optimized admin interface.

Smart Data
Leverage insightful data through tracking source code and custom tags. Capture social source and influencer IDs, and gather real-time insights on donor behavior and habits.

Payment Gateways
Offer supporters and sustainers convenience and security when donating gifts with a sophisticated donor portal, one-click billing, and modern payment methods.

Insightful Analytics
Maximize real-time data with Springboard's tracking features to provide relevant and valuable insights on how and where to best reach your supporters.

Ongoing Support
Our Springboard team values long-term relationships with your station. We provide ongoing support through phone, email or chat, and offer thought leadership around fundraising trends and research.
Springboard's Product Manager Identifies Trends In Public Media Fundraising
Megan Farrington, Product Manager, shares trends seen across the Public Media landscape and revals an upcoming feature to Springboard that will further empower stations to retain sustainers.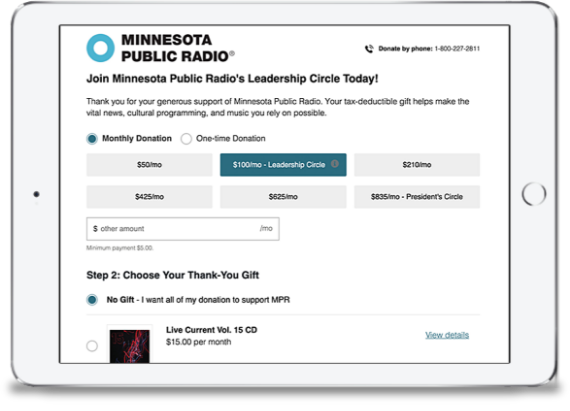 Focused On Successful Pledge Drive Experiences
Springboard is committed to the success of your fundraising drives and empowering your organization to achieve its goals while providing members with a smooth and engaging experience.
Powered By Digital-First Technology We Amplify Fundraising
We help public media excel at sustainer-focused fundraising with a digital-first software solution focused on pledge drives, online-fundraising, sustainer upsell, and premiums.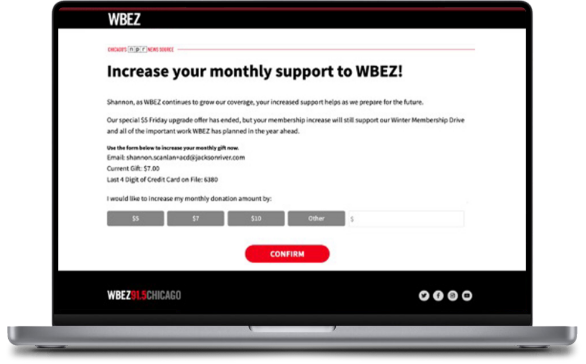 WBEZ Experiences Substantial Increase in Conversions With A/B Testing
WBEZ (Chicago's NPR news station) depends on Springboard's analytics to provide valuable insights helping to shape fundraising strategy and donor experience.
Feedback From Empowered Public Media Clients
"Since launching with Springboard, we've been able to customize our donation forms to a higher degree than ever before. The flexibility allows us to fundraise to specific groups and still ensure our messaging is cohesive and effective. We've used the homepage widget for two pledge drives, each yielding a 20% increase in digital donations. We're also utilizing the Springboard sustainer upsell feature for the first time, with great results."
Deanna Archetto, Membership Manager
Southern California Public Radio (KPCC)


Springboard Integrates Seamlessly With Your Current Systems
Springboard is fully customizable and integrates with the world's leading CRM, Salesforce, and other software products.
Experience what Springboard can do for you…
Request your overview and demo of Springboard's solution today.