GivingTuesday: Best Practices For Fundraising Success
| Written by
Jackson River
|

Back
On GivingTuesday, millions of people worldwide give to the causes they care about, from global youth advocacy charities to local animal welfare organizations. Taking place the Tuesday after Thanksgiving in the United States, GivingTuesday is a prime opportunity for your nonprofit to accelerate its growth and reach new audiences. In fact, in 2021, giving in the U.S. alone totaled to $2.7 billion, and 35 million adults participated in fundraisers or volunteer events.
In order for your nonprofit to prepare for GivingTuesday, you'll need a strong fundraising strategy in place with an engaging idea. After all, you only have 24 hours to raise as much money as possible, so use this urgency to your advantage and inspire your supporters to take action!
Leading a GivingTuesday fundraising campaign requires a lot of planning and manpower, but the right software can support you through this process, from beginning to end. To help your nonprofit lead a successful fundraiser on this international day of giving, this guide will cover:
With so many nonprofits leading GivingTuesday campaigns, you'll need a fundraiser that will stand out from the crowd. If you're ready to design a successful fundraising campaign, let's dive right in!

GivingTuesday FAQs
Why is GivingTuesday significant?
GivingTuesday was created in 2012 to increase philanthropic giving at the end of the calendar year. Since 2012, nonprofits all around the world have collectively raised billions of dollars to go towards the causes they care about.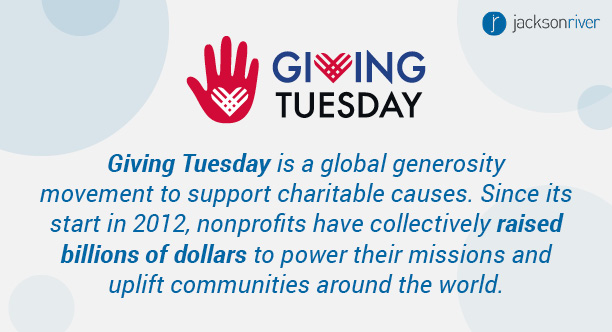 As the second-largest giving day after December 31st, GivingTuesday has shown no signs of slowing down. Since 2020, donations skyrocketed to reflect needs heightened by the pandemic. 2020 saw a 25% increase in donations from the previous year, leaping from $1.97 billion in 2019 to $2.47 billion in 2020, and 2021 had an even greater impact with $2.7 billion raised.
Nonprofits all over the world, and from all different sectors, use GivingTuesday to bring awareness to their organization, raise funds for important causes, and bolster support. With so many people willing to give to important causes, this day is a great opportunity to expand your nonprofit's reach and turn casual donors into loyal supporters.
How does GivingTuesday work?
Running a GivingTuesday campaign is flexible and can be shaped to your nonprofit's unique needs. Your nonprofit will need to set ample time aside to prepare for this day. Some nonprofits start planning their fundraisers as early as August, so it's important to do your research and work with your nonprofit's team to strategize as soon as possible. During this time, you'll need to select a fundraising idea, invest in fundraising software to streamline the planning and execution experience, and determine how you'll market your fundraiser.
On the big day, your organization will push your fundraiser live and launch a mass marketing effort to get new and existing supporters to donate. Many organizations use social media to boost the virality of their fundraising campaigns with the famous hashtag #GivingTuesday. You can use this hashtag to direct people looking for causes to give to on GivingTuesday to your landing page, website, or other donation platform so they can give quickly.
What types of fundraisers can I lead on GivingTuesday?
Since GivingTuesday is very open-ended, you can lead practically any type of fundraiser on this day. Keep in mind that your fundraiser will be executed within a 24-hour period, so choose a campaign that will engage donors and create urgency.
Some examples of popular GivingTuesday fundraisers include:
Peer-to-peer fundraising.

Empower your supporters to make their own campaign pages and fundraise on your behalf. This is a great choice for nonprofits because they can create stronger relationships with their existing supporters and increase their brand visibility among hundreds, thousands, or even millions of new donors.
Sustainer upsell.

Promote your

recurring giving program

so you can access a predictable revenue stream year round! To do this, target people who already give recurring donations and reach out to them to increase their donation. You can also conduct outreach to one-time donors and ask them to take their impact further by becoming a monthly or bi-monthly donor.
Online fundraising campaign.

Create a beautiful event landing page for your GivingTuesday fundraiser where donors can learn about your nonprofit's cause and donate online. Include information on this page like your nonprofit's history, the problem it's trying to solve and accomplishments it has made, as well as how the funds raised will be used.
Product fundraiser.

Donors purchase an item like branded nonprofit merchandise or even delicious food, and your nonprofit uses the revenue to fund its mission. It's a win-win and encourages donors to give!
While you can make any of these a standalone fundraiser, feel free to get creative and combine several different initiatives into one GivingTuesday campaign. Consider your audience and which type of fundraiser might get them the most excited to donate to your cause.
Once you've settled on a fundraising idea, invest in a software solution that will streamline the planning and execution process. In the next section, we'll explore how Springboard by Jackson River can help you conduct these fundraisers for a more successful GivingTuesday.
Your GivingTuesday Software Solution: Springboard
Springboard by Jackson River can help your nonprofit take its fundraising strategy to the next level. Built by nonprofit veterans, this platform takes a digital-first approach to help organizations engage, motivate, and retain donors with a variety of intuitive features. Springboard streamlines the entire fundraising process so your nonprofit can reduce its workload and focus on advancing its mission.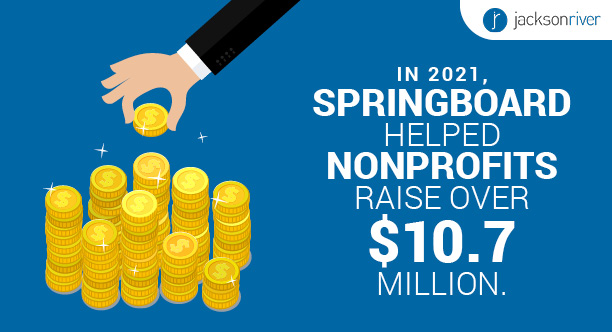 For several years, Springboard has powered impactful fundraisers across the country. In 2020, Springboard helped customers raise over $7 million to support a variety of charitable causes, and in 2021, this number jumped to over $10.7 million.
Nonprofits have been able to achieve this success through Springboard's innovative fundraising features, including:
Automated sustainer upsell.

Easily turn one-time donors into loyal supporters that give to your nonprofit year-round. If you're planning to lead a recurring giving campaign, this is a must-have to boost the number of recurring givers

and

encourage recurring donors to increase their donations with automated upgrades. Springboard will help you target these donors on GivingTuesday with a built-in, one-click sustainer upsell option.
Payment flexibility.

With a variety of payment options, more people can give to your fundraiser. Expand your audience with Springboard's multiple payment options, including e-checks, Apple Pay, PayPal, and more.
Website builder.

Springboard allows you to easily create well-designed fundraising websites, with the ability for users to create their own unique pages for peer-to-peer fundraising. Make your fundraising website stand out from the crowd by adding in your unique color scheme, font style, images, and more.
Automated emails.

GivingTuesday is all about conveying urgency to get supporters to give. If you have hundreds or thousands of supporters, this feature will allow you to easily mass send donation requests and updates on your fundraising progress throughout the day.
Social media integrations.

Leverage social media's virality by making your fundraiser easily shareable on popular platforms like Instagram and Facebook. If you're running a peer-to-peer fundraiser, this will allow your supporters to easily share their unique fundraising pages with their networks.
Custom forms.

Your online giving page is essential to your fundraising strategy. Use Springboard to craft a great-looking donation form that features your organization's unique branding. You can also create custom forms for email-sign-ups, event registrations, and more.
Mobile optimization.

To increase your fundraiser's reach, you'll need to make sure all supporter touchpoints are mobile optimized. Springboard offers a mobile-optimized admin interface for your convenience in addition to automatic mobile optimization for forms, your fundraising website, and more.
Running a fundraiser can be difficult without the right tools, which is why your nonprofit needs a reliable software solution. With any GivingTuesday fundraiser, Springboard can help make the fundraising process easier and produce exceptional results.
5 GivingTuesday Best Practices for a Successful Campaign
In order for your GivingTuesday campaign to garner enough support, you'll need to leverage your fundraising software's features and develop a strong plan of action. Use these best practices to keep your nonprofit on track to lead a well-designed fundraiser.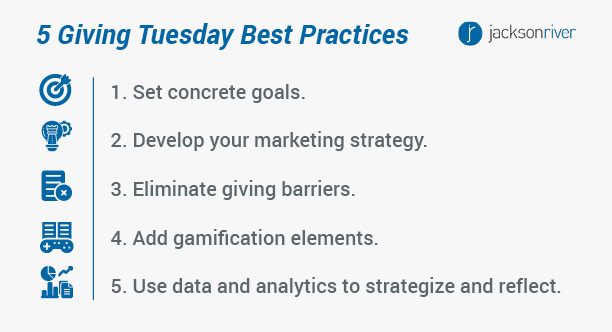 GivingTuesday Best Practice #1: Set concrete goals.
Every fundraiser needs a goal so your nonprofit knows what to work towards. Set an overall fundraising goal for your organization that is reasonable yet challenging. You'll also want to consider how many donors you hope to reach, how much social media traffic you hope to achieve (number of reposts, likes, comments, etc.), and any other metrics relevant to your organization.
GivingTuesday Best Practice #2: Develop your marketing strategy.
Marketing is one of the most significant elements that will determine your campaign's success. After all, how can people donate to your organization on GivingTuesday if they don't know about your fundraiser? Create a comprehensive strategy for how you'll advertise your campaign through email, your website, and social media. Social media is especially valuable on GivingTuesday, as people will be looking for worthy organizations to give to through the hashtag #GivingTuesday. Consider developing a social media challenge to help get the word out even more!
GivingTuesday Best Practice #3: Eliminate giving barriers.
Attract as much support as possible by making your fundraiser accessible and user-friendly to everyone. Your fundraising website and donation page should be easy to navigate so donors can quickly give.
An easy way to do this is by bringing special attention to your donation page link, such as by placing a prominent "Donate Now for #GivingTuesday" button at the top of your website. Once donors get to your donation page, it should be visually appealing and easy to fill out. Work with your fundraising software to develop a straightforward and engaging fundraising website and giving page. Be sure to also offer flexible giving options beyond credit or debit card on your giving page so anyone can give to your campaign.
GivingTuesday Best Practice #4: Add gamification elements.
Gamification can motivate donors to give and instill a strong sense of community. Consider placing a leaderboard prominently on your fundraising website so donors can engage in friendly competition to raise the most amount of money (especially if your fundraiser involves a peer-to-peer element!). You can offer the top givers an incentive such as a shoutout on social media or branded nonprofit merchandise. Alternatively, add a fundraising thermometer on your page so donors can see your fundraising progress in real-time and give more to watch the thermometer fill up.
GivingTuesday Best Practice #5: Use data and analytics to strategize and reflect.
Throughout your campaign, actively monitor the progress of your fundraiser so you can make adjustments along the way. If you're far from reaching your fundraising goal, you can amp up your communication strategy and convey urgency via email, text, and social media. Your software should allow you to send automated donation requests so more people will give.
At the end of GivingTuesday, use your fundraising software to review data and analytics and determine whether you met your goals. This will help inform your fundraising strategy so you can make improvements the following year.
Conclusion
With a strong fundraising plan and the right software, your nonprofit can lead an exceptional GivingTuesday campaign. Use Springboard by Jackson River for an innovative approach to fundraising that will benefit both your nonprofit and its supporters.