How to Identify and Connect With Major Donors: A Guide
| Written by
Jackson River
|

Back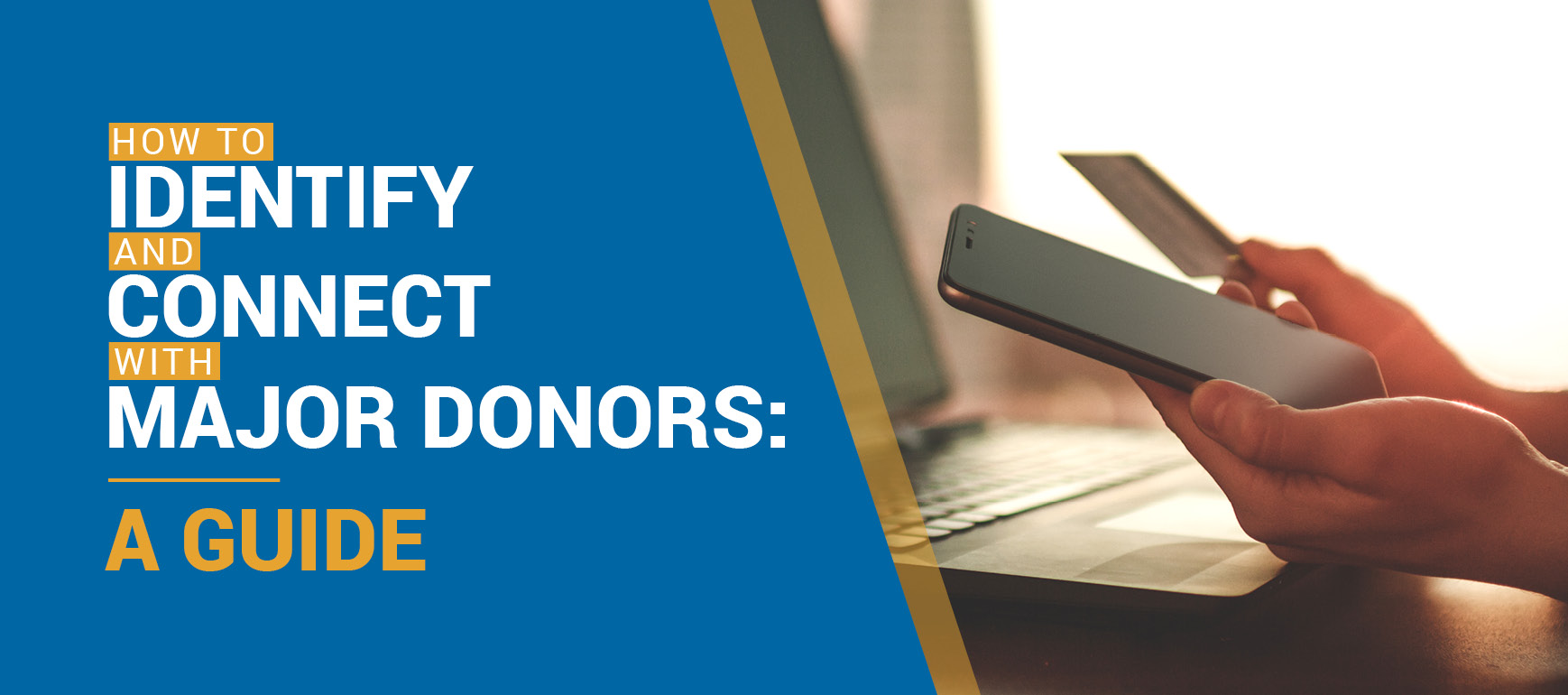 An effective donor engagement strategy is pivotal to your nonprofit's operations. After all, donors are the lifeline of your organization, and without them, it would be impossible to achieve your unique mission. However, when it comes to major donor cultivation, your nonprofit needs to go the extra mile to identify and steward these relationships over time.
Major donors typically provide a considerable portion of your fundraising efforts. In fact, it's estimated that 80% of donations come from the top 20% of donors, helping your nonprofit establish a reliable stream of revenue to power your programs, events, and services in the community. While it takes time to identify and connect with major donors, their high level of support can give your organization the foundation it needs to grow.
With the right technology solutions and strategies, your nonprofit can make major gifts a regular part of its annual fundraising stream. In this guide, we'll cover:
While every nonprofit has unique objectives and will need to customize their major donor strategies to their audience, these tips can help get you started. Let's begin.


How to Identify Major Donors
Major donors give significant contributions to your organization. For smaller nonprofits, major gifts may be defined as contributions of $1,000 or more, but for larger organizations, major gifts could be any gift over $50,000.
Since many of your donors will not have this giving capacity, you need a strategy to identify passionate people who are able and willing to give significant contributions toward your mission. Let's take a closer look at ways your organization can find major donors who are eager to give.
Assemble a major gifts team.
Identifying major donors is a lengthy process that involves ample planning and research. As a result, you'll need a dedicated individual known as a major gifts officer, or a major gifts team, ready to initiate and maintain major donor relationships.
To assemble your major gifts team, consider posting hiring ads on nonprofit job boards. These ads should clearly list the time commitment, responsibilities, and qualifications so there are no surprises when someone takes the job and you can be sure you're attracting the right candidates.
Alternatively, if you're a part of a smaller organization that doesn't have the means to hire new individuals right now, consider tapping volunteers, staff, or board members that have fundraising experience with your organization and would be interested in taking on these new responsibilities.
As your organization grows, it's likely that you'll need to ramp up your major gifts strategy to continue funding your operations. As a result, continue to expand your major gifts team so you have multiple people responsible for major donor touchpoints and nurturing these relationships over time. This will reduce your team's stress and ensure that you're able to reach out to every potential major donor.
Conduct prospect research
Prospect research is the process of taking a deep dive into your donors' data. Essentially, this allows your nonprofit to identify a donor's likelihood to give and how much they'd be able to contribute to your organization. By focusing on philanthropic and wealth indicators, you can better understand your donors' backgrounds.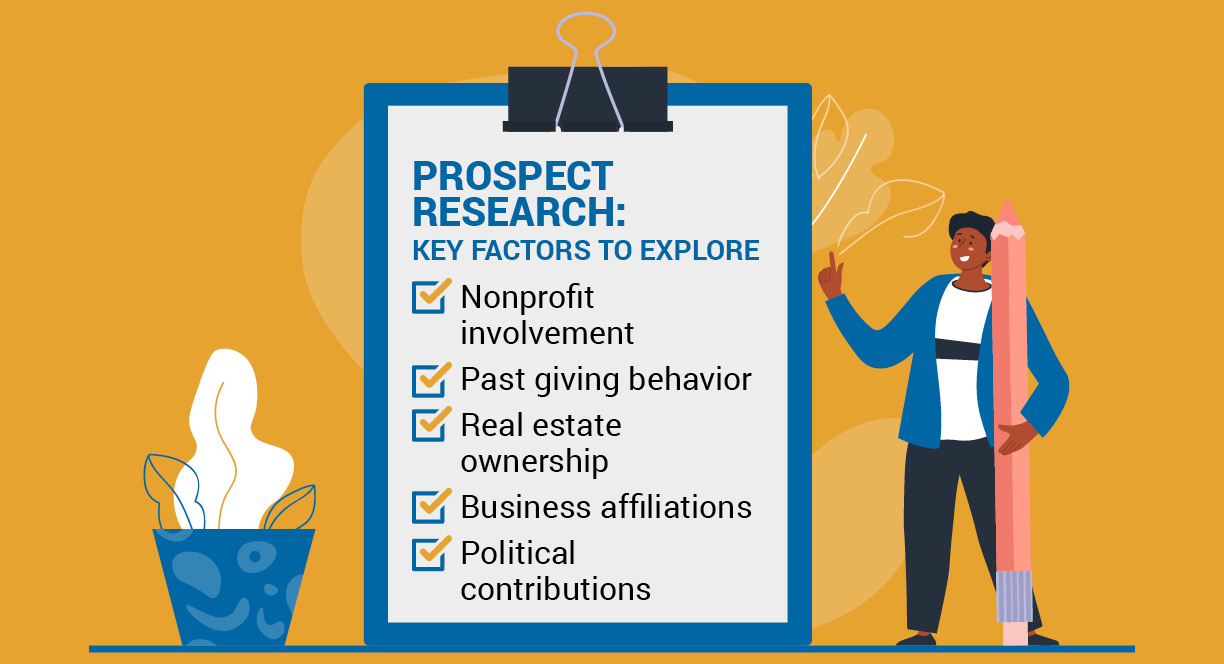 When conducting prospect research, look at features like:
Nonprofit involvement, including their volunteer status and how often they attend your events
Past giving behavior, including their average donation amount, frequency, and recency of donating
Real estate ownership,

including the number of properties they own and their valuations
Business affiliations, including the company they're currently employed with to assess their

matching gift

eligibility
Political contributions, including the amount they give and the causes they support that may align with your mission
To find up-to-date information about your supporters, your organization can use public records, data appending services, and wealth screening software. Once you have this data, hone your major donor identification by focusing on donors who:
Demonstrate a vested interest in your cause
Have an extensive philanthropic history
Have the capacity to give significant contributions
These individuals are the most likely to become major donors when your organization uses the right outreach and relationship-building strategies over time. Task your major gifts team with keeping note of each potential major donor's defining characteristics, as these can add a personal touch to their communications.
Ask for referrals
It's likely that someone within your nonprofit's network knows other people who are interested in your cause and willing to contribute major donations towards your mission. Rather than focusing all of your efforts on cold outreach to prospective major donors, ask people you know to make an introduction on behalf of your organization to individuals they believe are good major donor candidates.
Referrals are very powerful because prospective major donors are much more likely to trust your organization if someone they know recommends it to them. As a result, the major donor identification process is much quicker, allowing you to boost your acquisition rate.
To get started with referral outreach, consider asking the following individuals to introduce your organization to prospective major donors:
Current donors
Corporate sponsors
Volunteers
Staff
Board of directors
People with high giving capacities tend to know other people who have the same ability to give major gifts, whether it's coworkers or their neighbors. If you already have some major donors, consider asking them first if they know anyone who would also be willing to support your organization.

How to Connect With Major Donors
Now that you've identified major donors, you need a way to connect with them and cultivate their support. By building a strong foundation for relationships with major donors, you'll be more likely to retain their support for the long haul, increasing their lifetime value at your organization. This helps establish a reliable donation pipeline to fuel your important work year after year.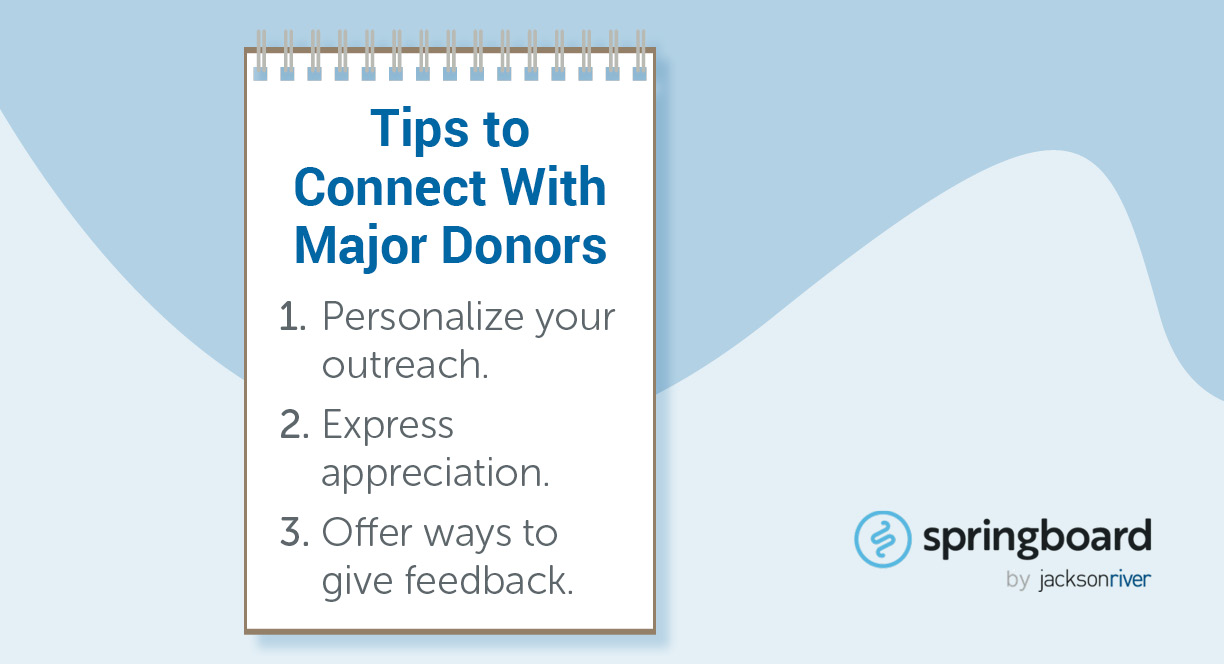 Let's explore tried and true ways you can build long-term partnerships with your major donors.
Personalize your outreach.
Your communications should be tailored to each major donor's interests in your organization so you can tap into their specific motivations for giving. Once you've identified a prospective major donor, create a personalized invitation to meet, either online or in person, and use this opportunity to get to know them better. For instance, you can ask them about their interests in your nonprofit, their hobbies, families, values, and more.
You can then reference these details in your communications to them so donors feel truly valued by your organization. Your nonprofit can also use the initial meeting to ask donors about their preferred contact method so they'll be more likely to see and read your communications.
Keep in mind that your outreach shouldn't just be about donation appeals and fundraising progress. Provide updates about your nonprofit's growth, recent projects, and upcoming goals so major donors feel emotionally connected to your organization's initiatives.
Express appreciation.
Thank major donors each time they give and express the impact of their gift. For example, highlight the specific program they helped fund or even offer a tour of your updated facilities if they contributed toward the renovations. This helps them build trust in your organization and allows them to see the efficacy of their donations.
While emails are a fast and easy way to express your gratitude, it can be much more meaningful to craft a handwritten note or call your supporters on the phone to express how greatly you value their contributions. This personal touch makes it more likely that major donors will want to give again to drive even more impact.
You can also host annual exclusive major donor events. Not only does this help major donors feel recognized, but it also gives them the opportunity to network with other donors and form meaningful relationships within your nonprofit's community.
Offer ways to give feedback.
Your major donors have a vested interest in your cause and want to see your mission grow. To help them feel even more valued, give donors the opportunity to voice their feedback through surveys or at your next major donor event.
For instance, you can ask your major donors the following questions:
On a scale from 1-10, how engaged do you feel in our mission?
What motivates you to donate to our nonprofit?
How often would you like to hear updates from our nonprofit?
Do you feel like your donations make a difference?
What goals do you have for our organization?
What events would you like us to hold in the future?
Your major gifts team can regularly speak with major donors to collect these insights and make adjustments to their cultivation strategies as needed.
Essential Tools to Cultivate Major Donor Relationships
Building major donor relationships can seem difficult, but it doesn't have to be with the right technology foundation.
Springboard by Jackson River is the premier fundraising software to take your major gift cultivation strategy to the next level. With its digital-first approach, Springboard offers nonprofits a full suite of tools to collect and analyze donor data, then leverage this information to nurture major donor relationships.
These user-friendly features found in Springboard include:
One-click sustainer upsell. With Springboard's simplified

sustainer upgrade, you can easily prompt donors to increase their recurring donation or convert one-time gifts to recurring donations. This makes it simple for donors with the giving capacity and willingness to become major donors to upgrade their donation to a major gift without having to reenter their billing information.
Data tracking.

To better understand your donors and identify major donor candidates, you need a surefire way to collect, organize, and analyze donor data. Springboard makes it simple to add source code tracking, analytics, and custom tags to campaigns, allowing you to generate real-time insights on donor behavior and habits.
Targeted communications.

Communications that are tailored to your major donors or major donor candidates are more likely to resonate with them and motivate them to act. Leverage Springboard's communication features to automatically send highly personalized messages based on donors' giving history.
Reporting and analytics.

As you get closer to fundraising deadlines, you may need an extra push from major donors to hit your goals. Springboard automatically creates data reports so you can assess your fundraising progress and send off personalized donation requests to your major donors.
Donor portal.

For donors to increase their gifts to major gifts, they'll need an easy hub to manage their giving. For each of your nonprofit's supporters, Springboard generates custom donor portals where donors can update their payment amount or method, sign up for recurring giving, and complete more actions without having to go through your organization to make these changes.
Armed with these fundraising tools, your nonprofit will be in the best position to attract and retain major donors' support for the long run. Springboard's user-friendly features make it easy to connect with supporters and deepen your nonprofit's impact.
Conclusion
A thriving major giving program is exactly what your nonprofit needs to take its fundraising strategy to new heights. Partner with Springboard by Jackson River so you can identify the best candidates for major giving and develop long-lasting relationships with them. With a robust major gifts strategy and fundraising software on your side, you'll be well on your way to meeting and exceeding your fundraising goals.