Peer-to-Peer Fundraising Software: 6 Essential Features
| Written by
Jackson River
|

Back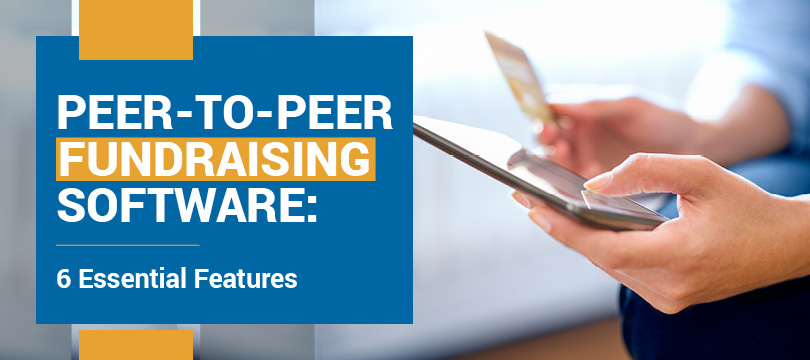 Peer-to-peer fundraising campaigns are one of the more complicated types of fundraising campaigns that nonprofits and public media organizations will undertake, simply because of the sheer size and scope of the effort. Rather than your organization fundraising on its own, you're equipping supporters with the tools to go into their communities and raise funds on your behalf. So, the fundraising appeals, donation pages, and overall activities increase exponentially.

Because of the complexity of these campaigns, having effective, robust peer-to-peer fundraising software is essential for success.

We've seen firsthand the importance of backing peer-to-peer campaigns with the right tools through our work developing Springboard by Jackson River. In this guide, we're going to discuss the six most essential features to seek when investing in peer-to-peer fundraising software, including:
There are a wide variety of peer-to-peer fundraising software solutions available to both nonprofit and public media organizations alike. However, your goal shouldn't be to invest in just any peer-to-peer solution, but rather, a feature-packed solution that aligns with your organization's unique needs.

With that in mind, let's dive into the first feature on the list.


Personal Fundraising Pages
At the heart of peer-to-peer fundraising are supporters raising funds on your organization's behalf. In order for them to do so in any organized manner, they need to be equipped with intuitive personal fundraising pages.

These pages are not unlike your nonprofit's online donation page, as donors visit them, input their payment information, and make a gift. As such, personal fundraising pages should follow donation page best practices—such as being accessible, mobile-friendly, and generally straightforward to fill out.

The main difference is that each individual peer-to-peer supporter has their own unique fundraising page, and donations made go toward that individual's fundraiser on behalf of your nonprofit.

Some peer-to-peer fundraising solutions equip supporters with standardized peer-to-peer pages that allow for little individual personalization. However, we recommend seeking a solution that allows supporters to personalize these pages, such as by setting individual fundraising goals corresponding to how much they'd like to raise on behalf of your organization.

That way, fundraisers can log gifts and track their progress toward their own personal goals, rather than being looped in with your organization's overall goal for the campaign as a whole. These smaller personal goals can be incredibly motivating.

Flexible Payment Options
One of the greatest benefits of peer-to-peer fundraising is that it empowers your organization's campaign to be shared with and receive donations from a significantly wider audience. Rather than limiting the campaign to your supporters, you're soliciting donations from your supporters and their friends, family members, and colleagues alike.

With this larger audience, it's likely that a wide variety of payment methods will be needed to accommodate everyone's needs. That's why it's important to choose a peer-to-peer fundraising tool that is able to process donations made using a variety of different payment methods. This includes but isn't limited to:
Credit cards
eChecks
PayPal
Apple Pay
Accepting a variety of payment tenders is important for two key reasons. First, many people only use one or two primary payment methods; if you don't offer the options that they use, they won't be able to make a donation to the campaign. Second, even if individuals have access to other payment methods, they may not feel comfortable or secure giving via certain tenders. Casting a wide net increases the likelihood that you're offering a payment method that each supporter both uses and trusts.



Recurring Giving Options
When you think of classic peer-to-peer donations, you probably think of a one-time gift made to a nonprofit in support of a friend or family member's campaign. However, it's time to expand that view and incorporate sustaining gifts (also known as recurring gifts) into the mix.

Seek out peer-to-peer fundraising software that makes it easy for one-time peer-to-peer supporters to convert into sustaining supporters. In particular, look for features such as:
Built-in sustainer upsell. Before a supporter makes a one-time gift, the solution should present the idea of upgrading their gift into a smaller monthly donation.
Automated upgrades. With this, supporters can increase their gift amounts over time.
Easy-to-use billing management. Boost sustainer retention by making it easy for them to manage their own giving. With a convenient self-serve portal, sustainers can change their gift amount and update their billing information as needed.
Recurring giving can have a major impact on not only the one peer-to-peer campaign that the sustainer signs up through but also your organization's fundraising revenue more generally. Data shows that sustaining monthly donors give 400% more to charity over their lifetime compared to one-time donors.

Recurring giving options are simply not a feature to overlook for any campaign—let alone peer-to-peer campaigns where you're exposed to a wider audience than any other effort.



CRM Integration
Peer-to-peer fundraising exposes your organization to an entirely new audience of supporters; beyond raising funds, its biggest benefit is supporter acquisition. However, it's impossible to follow up with and continue engaging new supporters if you don't have key data such as their names and contact information.

By investing in peer-to-peer fundraising software that integrates directly with your nonprofit's constituent relationship management (CRM) solution, you can seamlessly capture this data within your most comprehensive database. Then, you can not only follow up with new supporters acquired via peer-to-peer fundraising, but you can also view campaign data alongside all of your organization's other metrics. This can allow you to glean valuable insights about your audience across various campaigns.

This could mean a solution that's created with a specific CRM in mind, such as the peer-to-peer and donation apps created specifically to use alongside the Salesforce NPSP. Built-in integrations such as these are ideal, as there is little technical setup required from your team.

Some peer-to-peer solutions don't offer built-in integrations but do allow for the creation of custom integrations. While this will technically accomplish integrating the two solutions, it can be a challenging task for your nonprofit if you're not particularly technology-savvy.

Social Media Integration
Peer-to-peer fundraising thrives when supporters can easily make connections. Over the past decade or so, social media has become a primary avenue for social connections. When your supporters can easily share their fundraising pages on social networks (rather than just via word of mouth), it drastically increases the number of people the fundraisers are exposed to.

With peer-to-peer fundraising software that integrates directly with social networks, you can empower supporters to share their campaigns on social media and more. For example, you can also identify key social supporters and influencers and continue to engage them further on other channels.

Reporting and Analytics
Your peer-to-peer fundraising campaigns will generate significant data about your supporters. This data can provide valuable insights that you can use to continue to improve your supporter engagement efforts and elevate your future campaigns.

In addition to collecting this data thanks to the previously mentioned CRM integration, you should seek a peer-to-peer platform that empowers you to generate reports and analyze that data.

There are now innovative analytics tools that will allow you to understand donor behavior and habits across fundraising campaigns. For example, Springboard by Jackson River includes source code tracking, custom tags, and advanced analytics that allow you to ascertain a real-time picture of how supporters are interacting with your peer-to-peer fundraisers.
Conclusion
Peer-to-peer fundraising campaigns are complex and often involve more supporters and donors than any other type of fundraising campaign. Because of this, it's impossible to run a successful campaign without robust, feature-laden software backing it.

This guide discusses six essential features to keep in mind when researching peer-to-peer fundraising software for your organization. If you're looking for a solution that has all of these features and many more, explore Springboard by Jackson River, an enterprise-level platform that helps nonprofits and public media organizations alike power their digital fundraising and advocacy efforts. To learn more, request a demo today.