Software Solution Built for Passionate Nonprofits
Springboard is an enterprise-grade platform that helps power digital fundraising and advocacy efforts. It's built for nonprofits to engage, cultivate and retain supporters through digital-first technology.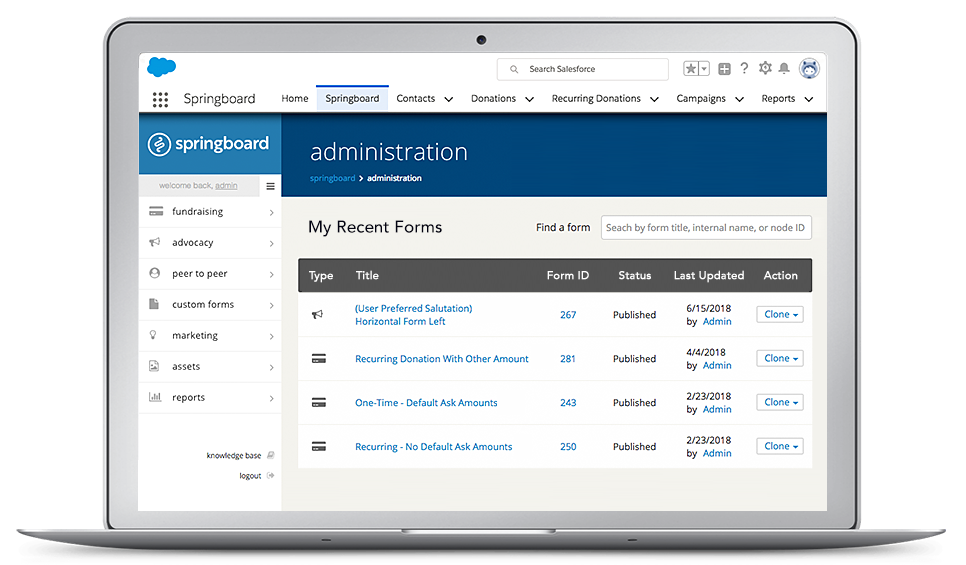 Live Overview Webinar
This 30-minute overview session will give you an in-depth look at the Springboard platform and it's capabilities.
Thursday, November 30th at 2:30pm EST
Save My Seat
Watch Now: Maximize Donor Revenue with Springboard
In this 5-minute on-demand video, we'll showcase how our platform empowers you to implement effective upselling, upgrade strategies and cultivate richer donor communications.
Watch Now
Peer-to-Peer Webinar
During this 20-minute session, you will learn how Springboard's P2P offering can help you seamlessly launch, manage and promote campaigns that empower supporters to fundraise on behalf of their favorite cause!
Tuesday, November 14th at 3:30pm EST
Save My Seat
Can't make it to our live walkthrough? Get an instant look at our solution by watching one of our recent sessions on-demand.
Quick tour available: