Best Salesforce Donation Apps to Power Fundraising Results
| Written by
Jackson River
|

Back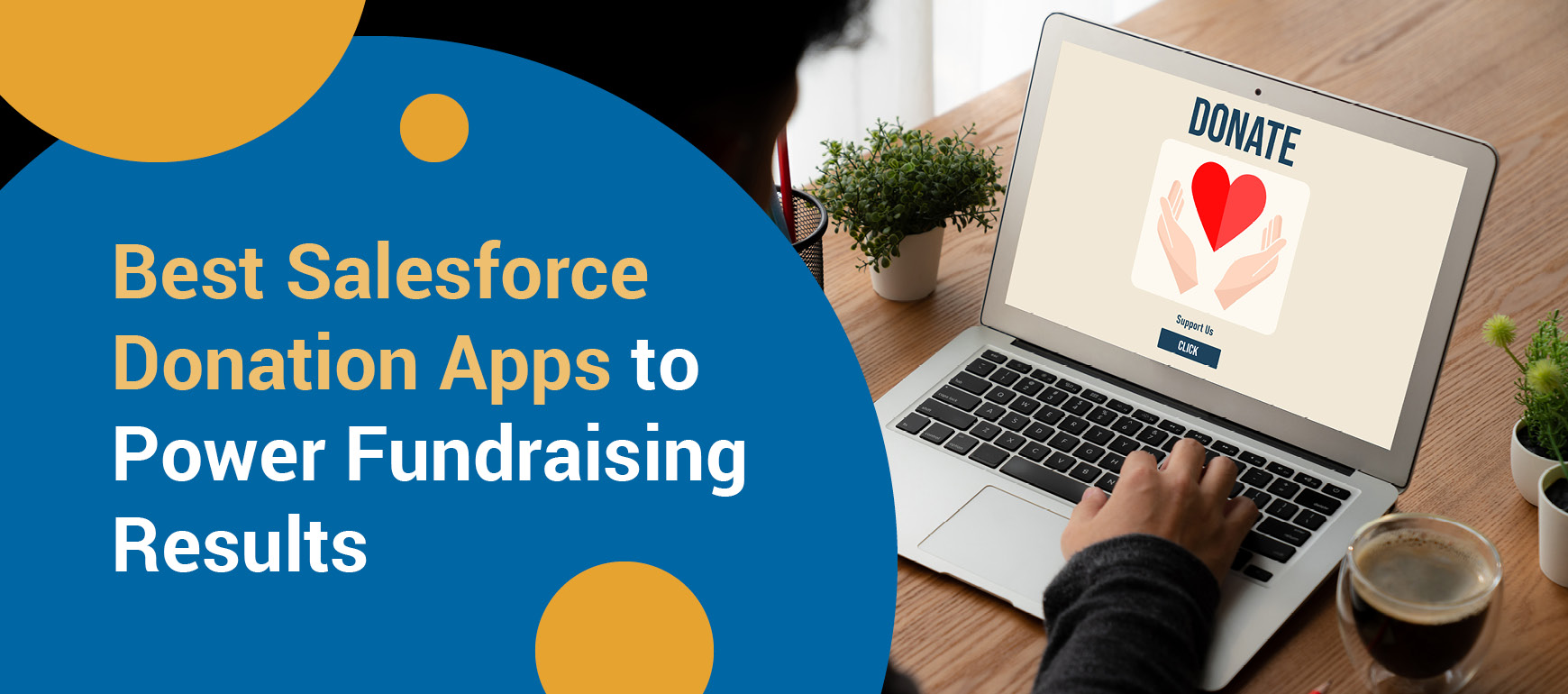 As the leading constituent relationship management (CRM) software on the market, Salesforce allows nonprofits to easily manage donor relationships—from storing and organizing incoming donor data to automating personalized solicitations.
Plus, unlike some other CRMs that are built for for-profit organizations, Salesforce empowers nonprofits to access a unique Nonprofit Success Pack (NPSP), as part of the Salesforce Nonprofit Cloud, which includes a variety of core fundraising and constituent engagement features. However, beyond these useful tools, your nonprofit will also need to leverage donation apps that integrate with Salesforce to enhance the platform's functionality and tailor the CRM to your exact needs.
There are a variety of Salesforce donation apps available, so to streamline your search, we've compiled a list of the best Salesforce apps for nonprofits to take your fundraising strategy to the next level. We'll cover:
Let's dive into how each of these top solutions can power your nonprofit's fundraising and enhance your data organization.

1. Springboard by Jackson River: Best All-Around Salesforce Donation App
App Overview
Springboard by Jackson River is a digital-first fundraising, advocacy, events, and peer-to-peer platform designed specifically for the Salesforce Nonprofit Cloud. This leading Salesforce donation app leverages the information already available in your CRM for more effective fundraising and engagement campaigns among your supporters.
With this solution, your nonprofit will be empowered to:
Design branded, secure donation forms:

Add a custom touch to your giving pages to increase donor confidence, make the donation experience more visually engaging, and smoothly integrate your online donation form into your website's existing branding guidelines. Plus, Springboard offers a variety of payment options to meet all of your donors' needs, ensuring everyone can securely give to your cause.
Conduct A/B testing:

Test the donation prompts and style that will most resonate with your supporters by generating multi-step forms with different ask amounts based on one-time versus monthly giving amounts via unique ask strings, all made possible through Springboard's integration with Salesforce.
Encourage sustainer donations:

By leveraging your existing donor data, Springboard targets your donors to upsell or upgrade their donation amount at the right time with the right ask. Springboard's innovative one-click upsell prompts donors to change their one-time donation to a monthly donation as part of the donation experience, converting them into a recurring donor on the spot. Then, when they're most likely to increase their monthly giving, Springboard will automatically prompt existing sustainers to upgrade their gift amount based on previous donations and willingness and capacity to give.
By leveraging these powerful features and many more, nonprofits of all different shapes and sizes have grown their fundraising strategies to new heights with Springboard. For example, the American Society for the Prevention of Cruelty to Animals (ASPCA) experienced a 25% increase in online fundraising year-over-year, raising more than $46.5 million online in 3.5 years with Springboard.
Backed by Springboard by Jackson River, your nonprofit can emulate this success and continuously enhance your fundraising processes through comprehensive data and analytics.
Why We Love This Salesforce App
Springboard not only provides all of the tools and services that nonprofits need to get started with their fundraising initiatives, but it also provides a personalized experience for supporters.
With its donor self-service platform, supporters can manage their own preferences and settings, which is particularly useful when they sign up for recurring gifts, becoming sustainers for your fundraising strategy. This high level of self-service communicates trust and transparency and increases the likelihood that donors will support your organization over the long term.
Plus, Springboard provides a number of digital engagement opportunities for your supporters to keep your nonprofit's cause top of mind. From powerful social sharing built directly into supporter experiences to personalized communications that pull from donors' interests and historical behavior, Springboard makes engaging with your organization rewarding and seamless.
Pricing
Nonprofits pay a single monthly platform fee based on the specific features they need (such as fundraising, advocacy, and peer-to-peer), donation transaction volume, and a services fee for set up and support. Contact Springboard by Jackson River today to see how their data-driven insights and robust integration with Salesforce can deepen your nonprofit's impact.

2. Salesforce Marketing Cloud: Best Salesforce Donation App for Marketing
App Overview
The Salesforce Marketing Cloud is a relationship-building software solution for the Salesforce platform. It has native integration with Salesforce so you can leverage the existing information in your CRM for a data-driven marketing strategy, while storing new information in your database as you continue your outreach strategy.
The Salesforce Marketing Cloud offers features such as a journey builder, email studio, segmentation, and personalization options so that you can reach the right people at the right times. Plus, the centralization of this system in your CRM solution makes it easy to compile reports and gain new insights that will help you continue to drive your strategy forward.
With this solution, you can design email drip campaigns to send consistent messages to potential donors, driving them to convert and become lifelong supporters. This can be achieved by crafting specific journeys for supporters and segments within your marketing solution.
Why We Love This Salesforce App
The Salesforce Marketing Cloud works seamlessly not only with your Salesforce CRM, but also with our top recommended donation app, Springboard by Jackson River.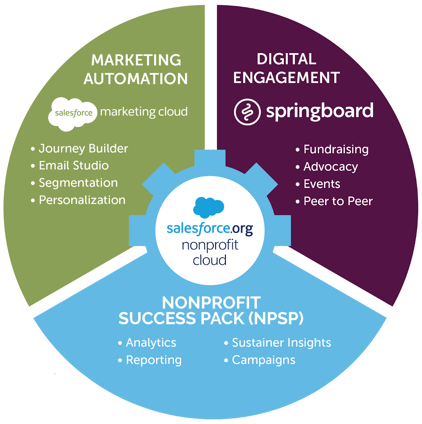 When all of your tools work together, you can use the insights and information from every organization initiative to inform your overall strategy and improve on a larger scale. The Salesforce Marketing Cloud, Springboard, and the Salesforce NPSP are all essential pieces of your fundraising and digital engagement puzzle, giving you the foundation you need to accelerate your nonprofit's fundraising efforts and grow.
Pricing
The Salesforce Marketing Cloud offers different pricing editions based on your number of contacts and features you're seeking. Visit the Salesforce Marketing Cloud pricing page to learn more.

3. DonorSearch: Best Salesforce Donation App for Prospect Research
App Overview
DonorSearch is a prospect research database and app that supplements the information saved in your Salesforce CRM platform. This comprehensive platform communicates information about your supporters' philanthropic and wealth indicators of giving directly in your CRM.
Some of the indicators identified through DonorSearch's prospect research tool include previous donations to similar organizations, real estate ownership, board membership, SEC transactions, business affiliations, and more.
You can use this information to learn more about your supporters' affinity to give to your organization and their capacity for giving, which can be invaluable for helping your development team better target their major gift solicitation strategies. You can better craft specific fundraising asks that feature the perfect donation amount that supporters could give and mention specific philanthropic interests pulled from their prospect research information.
Why We Love This Salesforce Donation App
Major donors make up a big component of your fundraising strategy, and DonorSearch designed their platform with this guiding factor in mind so you can identify, cultivate, and steward relationships with top givers. By leveraging wealth and philanthropic data points, Donor Search helps you create concrete donation requests that are most likely to prompt giving. This helps bolster the most impactful aspect of your nonprofit's fundraising efforts.
Plus, DonorSearch uses an advanced AI algorithm to process information, recognize patterns, and give you active recommendations of which prospects are most likely to contribute to your organization within a rolling 12-month period. This way, you can reduce your administrative burden and leverage the power of technology to get you the donor insights you need right away.
Pricing
Reach out to the DonorSearch team directly to learn more about what their platform can do for your nonprofit and the associated costs.

4. Brickwork by IATS Payments: Best Salesforce Donation App for Payment Processing
App Overview
Brickwork by iATS is a Salesforce back-office processing app that specializes in facilitating nonprofit donations and other transactions. This native Salesforce app streamlines payment processing and seamlessly integrates with NPSP and other Salesforce tools.
This PCI-compliant payment processor supports one-time payments, recurring donations, and batch processing for all major credit cards and ACH direct debit payments.
These options make it easy to create more opportunities for secure sustainer donations, creating additional stability in your nonprofit's fundraising efforts. It also ensures that you can handle all payment information directly from the centralized location of your Salesforce platform.
Why We Love This Salesforce Donation App
Brickwork by iATS integrates with a variety of front-end payment forms, including your merchandise stores, to create a secure transaction process. If you run into any questions about installing this plug-in, the iATS team is dedicated to providing technical support to all clients and can easily be reached at any time.
Brickwork also empowers your organization to add iATS' built-in donation form to your customized donation pages. This way, your nonprofit can feel confident that your donations will be securely processed and transferred to your nonprofit's bank account. Plus, your donors will feel comfortable giving to your organization again and again.
Pricing
Brickwork is a free application that integrates seamlessly with Salesforce's NPSP. Simply download the application and complete the necessary steps to add this plug-in to your Salesforce CRM.

5. 360MatchPro: Best Salesforce Donation App for Matching Gifts
App Overview
360MatchPro is a matching gift Salesforce app powered by Double the Donation. This Salesforce donation app helps nonprofits identify potential corporate matching gift opportunities through a user self-service database and automatic analysis of email domains.
Once a potential match is identified through the system, you can configure your system to automatically send out an email to the donor, encouraging them to take the next step to secure the donation match from their employer.
With 360MatchPro, your organization can identify and capture the matching donation information from your donors' employers that would have otherwise likely been left on the table.
Why We Love This Salesforce Donation App
Matching gifts are more common than many donors (and nonprofits) are aware. In fact, 360MatchPro estimates that more than 26 million individuals work for companies with matching gift programs, and 65% of Fortune 500 companies offer a match program. Plus, one in three donors indicate that they'd give larger gifts if they knew a match would be applied.
360MatchPro automates every step of the matching gift process, from the identification of new opportunities to the follow-up with eligible donors. Boosting this strategy enables your organization to maximize fundraising potential without asking donors to give additional gifts.
Pricing
360MatchPro offers a variety of pricing plans based on the total amount your nonprofit raises in annual matching gift revenue. Explore their pricing page to learn more.

6. Fonteva Events: Best Salesforce Donation App for Event Management
App Overview
Fonteva Events offers a comprehensive event platform built for Salesforce, enabling nonprofits to engage their supporters in a multitude of ways. The Fonteva event platform supports both hybrid and virtual event options, allowing nonprofits to get organized with an agenda builder, microsite, conference tools, and attendee management analysis.
Built for associations, you can host various event types, including conferences, trade shows, and fundraising events through Fonteva's platform.
To make the most of Fonteva Events, take advantage of their extensive training opportunities and educated support teams. These important resources can help you increase the ROI for your organization's event.
Why We Love This Salesforce Donation App
Fonteva Events is 100% native to Salesforce, making it easy to automate the flow of data from your event dashboards and registration solutions to your Salesforce CRM. With this information, you can pull comprehensive reports and gain new insights into your event data that will help you plan your next event and continuously improve.
Fonteva Events also makes it easy to create engaging event websites that align with your branding and increase excitement around your event. Easily upload all of the details your attendees will be eager to learn about, from the time and date of your big event to fun perks like catering or entertainment.
Pricing
Fonteva Events starts at $8,400 per year, with discounts available for nonprofits. For a complete look at their pricing breakdown, explore details on the Salesforce App Exchange.

7. OneCause: Best Salesforce Donation App for Auction Planning
App Overview
OneCause offers a Salesforce-integrated app specifically designed for nonprofit auction events. This comprehensive solution provides all the tools necessary for nonprofits to design in-person, hybrid, or virtual auctions and leverage data insights to inform their fundraising strategies.
This software helps keep organizations organized as they work on the item procurement process, manage tables, organize bidding for different items, appeal for donations, and set up raffles. These opportunities provide plenty of engagement options and sync the data you collect during events directly with your Salesforce CRM.
By leveraging OneCause and Salesforce together, you can collect engagement information during your event such as the number of attendees, activities participated in, and so on. This way, your organization can gain insights and design data-driven, effective, and impactful events in the future.
Why We Love This Salesforce Donation App
To reach supporters from all over the world, virtual fundraising events can be a great asset to your organization. A solution like OneCause makes it easy for nonprofits to host completely virtual auctions, preparing organizations like yours for the future in fundraising.
Plus, OneCause offers powerful mobile bidding tools to make the bidding process convenient, simple, and fast. With its intuitive messaging capabilities, OneCause allows you to send text outbid alerts to encourage donors to jump back into the bidding action for their favorite items.
Pricing
OneCause offers a number of different plans to meet nonprofits' unique needs. Explore these pricing plans and determine which one makes the most sense for your organization.

8. Soapbox Engage: Best Salesforce Donation App for Flexibility
App Overview
Soapbox Engage offers a suite of donation and engagement apps for the Salesforce platform. While these apps are not native to Salesforce, they integrate seamlessly with the CRM, making it easy to automate the flow of data from your supporters' engagement to your donor management system.
The apps offered through Soapbox allow nonprofits to accomplish a variety of functions, like setting up donation forms, launching advocacy campaigns, creating eCommerce stores, and hosting virtual classes.
These apps integrate with one another as well as with Salesforce, making it easy to connect all of the engagement tools that your organization uses to promote complete and well-rounded relationships with donors. This multi-platform engagement strategy keeps them interested in your organization without over-asking for donations.
Why We Love This Salesforce Donation App
Soapbox Engage offers a variety of tools for nonprofits, each of which can be purchased separately. This means your nonprofit only needs to buy the software for which it has an immediate need, rather than building out a system and paying for tools that you won't use for years.
This solution also offers a variety of customization features for your donation forms, allowing you to add a personalized touch to the giving experience. This way, supporters will feel confident that they're contributing to the right organization, and you can reliably process their transactions and store donor data in your CRM.
Pricing
Soapbox Engage's apps start as low at $59/month per app. Or, you can access all of their apps for $199/month. Visit their pricing page to learn more.

9. Classy: Best Salesforce Donation App for Managing Campaigns
App Overview
Classy offers a Salesforce-integrated app trusted by thousands of nonprofits to collect donations and run a variety of fundraising campaigns. No matter what type of fundraising campaign you're hosting, you'll have the virtual tools you need for success.
These donation tools include crowdfunding and peer-to-peer fundraising features, event software, donation forms, and more, making it easy to bring the fundraiser of your dreams to life.
In addition to getting your campaigns up and running with Classy's intuitive solution, your organization can easily keep an eye on the various fundraisers you have running, as the data from each is automatically stored in the centralized Salesforce database. By pulling reports and analyzing new information from this software, you can more effectively optimize your campaigns for your audience's needs.
Why We Love This Salesforce Donation App
With Classy, your nonprofit can brand your nonprofit's donation pages, crowdfunding campaign page, and event microsite with your own information. The platform is configurable to ensure the campaign pages match your nonprofit's typography, colors, and images. This establishes a sense of trust between your organization and your supporter, showing them that they're donating to the intended mission.
Classy additionally prioritizes data hygiene and efficiency by checking the health of your data and using parallel processing to increase the speed at which donor and fundraising data is transferred to Salesforce.
Pricing
Classy offers a default plan with a starting price of $250/month. Learn more about their pricing details here or submit an inquiry on their website.

10. Mogli SMS: Best Salesforce Donation App for Text Messaging
App Overview
Mogli SMS enables nonprofits to send out bulk SMS text messages to their supporters. Research shows that SMS open rates are as high as 99%, compared to just 20% for email. Therefore, sending text messages to supporters (when they opt into receiving them) is a great way to get marketing messages out.
Mogli SMS also offers MogliPay, another key feature that can set your organization up for fundraising success. Specifically, MogliPay allows your nonprofit to launch text-to-give fundraising campaigns and raise more through this popular platform.
It's important not to become overly reliant on texting your supporters, as sending too many messages on this platform could turn them away. However, for occasional marketing campaigns or event notifications, text messages are an ideal way to ensure your supporters see the message you send.
Why We Love This Salesforce App
Because Mogli SMS is directly integrated with Salesforce, you can easily pull reports and track your communications with supporters to be sure you're making the most of your texting platform without overwhelming them.
Mogli also connects nonprofits with WhatsApp, a highly popular messaging platform allowing for international communication. This means that international organizations have the ability to communicate with supporters around the world via text message.
Pricing
Mogli SMS starts at $187/month, with discounts available for nonprofits. To learn about their different pricing plans, submit an inquiry on their website.

11. Hootsuite: Best Salesforce Donation App for Marketing Automation
App Overview
The Hootsuite Salesforce app is specifically designed to help organizations make the most of their social media platforms. Their tool allows you to monitor social media campaigns, advertise your latest fundraising initiatives, and publish regularly by scheduling outreach ahead of time.
Social media is an important aspect of your nonprofit's marketing automation efforts and can create additional touchpoints with supporters when well-crafted posts are available in the right places.
With Hootsuite, you can automate your social media outreach while helping train your team with skills that will help you maintain personalization and engagement across your social platforms.
Why We Love this Salesforce App
Hootsuite not only empowers you to get your message across social platforms to the appropriate audience but also measures the success of your message with comprehensive analytics available directly through Salesforce. You can track the performance of different posts, A/B test different campaigns and post formats, and even find the ROI of your social media investment.
Plus, Hootsuite isn't just limited to one social network. You can manage your social presence and collect data insights from major platforms like Instagram, Facebook, TikTok, and YouTube to name a few.
Pricing
Hootsuite offers exclusive discounts up to 75% on their plans for nonprofits. Plus, there's a free 30-day trial so you can try out Hootsuite at no cost to your organization. Visit their pricing page to learn more.

12. WealthEngine: Best Salesforce Donation App for Wealth Screening
App Overview
WealthEngine is a prospect research tool that helps enrich your nonprofit's donor data through wealth screening technology. Their Salesforce app focuses specifically on gathering wealth indicators about your organization's supporters, allowing you to increase the ROI of your fundraising initiatives by crafting careful asks and finding new major prospects.
This app creates wealth scores and ratings within your donor database to identify the greatest opportunity for new mid-tier and major supporters. From there, you can create donor segments and track stewardship initiatives in Salesforce to build relationships with these individuals.
With WealthEngine, your nonprofit can prioritize your fundraising strategy and management tactics to hone in on those who will be most likely to create the greatest impact for your mission, boosting your potential capacity.
Why We Love This Salesforce Donation App
WealthEngine allows you to centralize your information and data in your Salesforce CRM, while seamlessly obtaining your data with a single click. Within the Salesforce platform, you can analyze the wealth insights for a single donor or import that information in bulk for up to 100,000 records.
In addition, WealthEngine allows you to pick and choose from more than 100 wealth attributes so you can find the top prospects for your organization. This advanced capability ensures you're investing time and energy into the right donors who can create a long-term impact for your organization.
Pricing
WealthEngine starts at $2,000/year for up to 3 users and requires a separate subscription to activate the full solution. You can also take the platform for a spin before spending any money and request a demo on their website.

13. GetFeedback: Best Salesforce Donation App for Collecting Donor Insights
App Overview
GetFeedback's Salesforce app enables your organization to send surveys and receive feedback from supporters, then leverage that information to enhance and improve your fundraising campaigns. Consistently receiving feedback over the years enables you to track your success rates for various strategies and to watch how slight changes and improvements result in real conversions and donations.
This solution makes it easy for nonprofits to craft and design mobile-friendly surveys from scratch or from prebuilt templates including customer satisfaction, net promoter score, or customer effort score surveys.
Not only do surveys help you improve, but they also show that you care about your supporters' opinions, building relationships with your community and boosting retention in the long-run.
Why We Love This Salesforce Donation App
With GetFeedback, your organization can create and automate workflows to send surveys after specific interactions. For instance, after a supporter donates, you might trigger a survey asking about their experience with your donation form.
Using these insights, you can refine your donation page to drive more conversions and encourage existing donors to give again and again. Plus, GetFeedback prioritizes user experience, allowing you to generate frictionless in-app and website surveys in just a few moments.
Pricing
GetFeedback starts at $799/month, with discounts available for nonprofits. Take a closer look at their pricing details here.

14. Cvent: Best Salesforce Donation App for Event Attendee Insights
App Overview
Cvent is a well-known and highly functional event management solution that can handle events of any size, including your nonprofit's next fundraising event. Their Salesforce app allows organizations to track attendance, build revenue, and gain deeper insights into their events' impact and ROI.
This solution makes it easy for your organization to track your attendee journey from all events that they attend with your organization. From their initial contact with your marketing materials to the follow-up after the event, you'll gain insights from all engagement activities of your attendees.
Use past data from your CRM to reach out and find new attendees or new donors from past events. Plus, store all recent data automatically in Salesforce as you kick off your event plans.
Why We Love This Salesforce App
In addition to offering in-person options, Cvent has extended its services to also incorporate completely virtual or hybrid events to build online engagement. This way, you can leverage Cvent for any event you might plan, whether it's taking place via livestream or in a ballroom for a high-energy fundraising gala.
Cvent's support team also helps them stand out among their competitors. They offer 24/7 support and a catalog of training resources that you can use to maximize your event plans using their tools.
Pricing
Cvent starts at $2,450 and offers discounts for nonprofits. Explore their plan details here.

15. Breadwinner: Best Salesforce Donation App for Accounting
App Overview
Managing financial data can quickly get confusing and disorganized, so the experts behind Breadwinner designed a Salesforce donation app to streamline your accounting processes. Breadwinner saves your organization time by syncing all invoices, bills, and payments with Salesforce so you always have a crystal-clear idea of your nonprofit's financial status.
This Salesforce app also lets you share financial data securely with Standard and Read-Only Permission sets so you never risk leaking any of your (or your donors') information. This will help to establish trustworthiness and empower donors to give to your organization with confidence.
Breadwinner also uses a bi-directional syncing solution, so any updates made in Salesforce will trigger changes in QuickBooks Online within minutes. You'll always have a full picture of your nonprofit's current state and can use data-driven insights to make changes as needed.
Why We Love this Salesforce App
If you're wondering whether Breadwinner will sync with your financial platform, it likely will! One of the best features of this app is its ability to readily integrate with a variety of account and payment software, including QuickBooks and NetSuite.
In addition, Breadwinner is easy to install. Field mappings are already pre-set and data will import quickly and efficiently, saving you time and headaches. You can hit the ground running and channel financial insights to power your organization's operations.
Pricing
Breadwinner offers a free version with basic features like the ability to generate invoices. Or, if you're looking for a more advanced solution, there's a number of different pricing plans that can meet your nonprofit's various needs. Take a look at their pricing page to learn more.

Wrapping Up
Salesforce is the world's leading CRM in part because it can be customized so specifically to meet the needs of each organization. Building out your Salesforce system with the right apps and integrations will ensure that all of your data is stored securely in your CRM and can be leveraged to strengthen supporter relationships.
If you're eager to learn more about Salesforce, essential nonprofit tools to add to your toolbox, and how you can optimize your fundraising approach, explore these additional resources: