ICYMI: Strategies to Increase Sustainer Donations
| Written by
Seth Merritt
|

Back
In our last post, we shared NextAfter's strategies to increase year-end giving. This time, we'll take a look at their research-proven tips for increasing sustainer donations. The following recommendations are based on NextAfter's years of benchmarking research into online giving, including "mystery donor" studies of the online giving experience of 56 PBS stations in 2019 and 70 public radio stations in 2020. Their findings related to sustainer donations are listed below, and you can watch the full webinar here.
Tabbed Layouts with Tailored Messaging Increase Recurring Donations
According to NextAfter's research, clearly communicating the impact of monthly giving increases conversion by 48 percent. And, using a tabbed layout that includes different gift arrays for one-time and recurring donations increases recurring donations by 91 percent! Springboard supports this strategy with tabbed layout options for donation forms with separate ask strings for one-time and recurring donations.
The ACLU communicates the impact of monthly giving.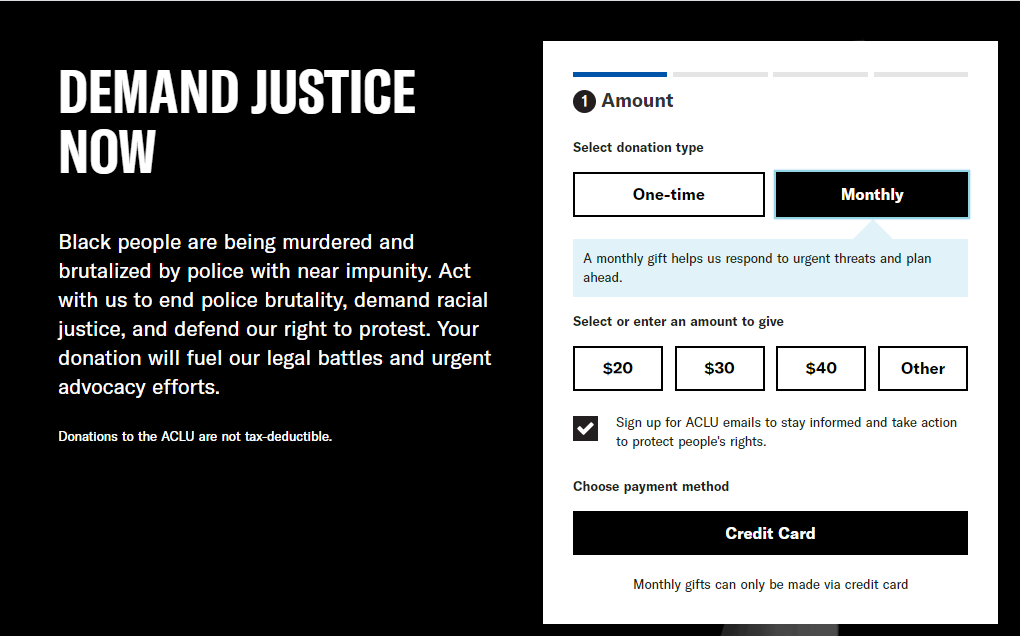 ACLU's tabbed options for one-time and monthly giving show gift arrays tailored to each type of donation. Both options communicate the impact of monthly giving.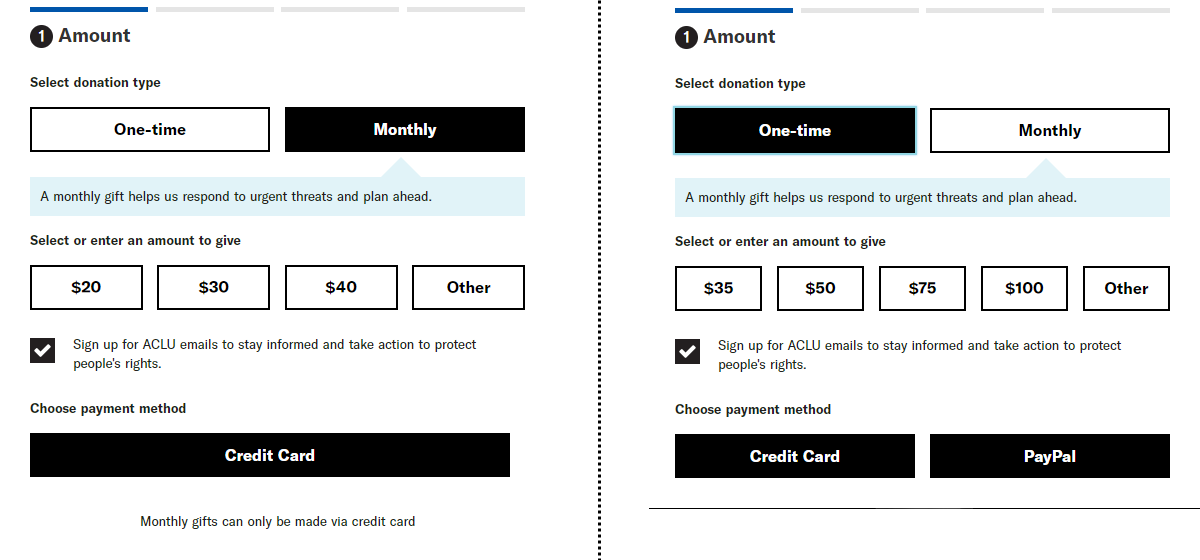 Ask to Convert to Monthly Giving
How can you convert one-time donors to sustainers? One practical method is to ask donors planning to give once to convert to monthly giving. This simple ask can increase recurring giving by as much as 64 percent! But, only 6% of public radio stations at 2% of PBS stations use this tactic.
With Springboard's sustainer upsell features, you can present a pop-up during a one-time donation with the option to convert to a recurring donation, with a suggested amount tied to the amount of the one-time gift.
KPCC asks one-time donors to convert to monthly immediately after their donation.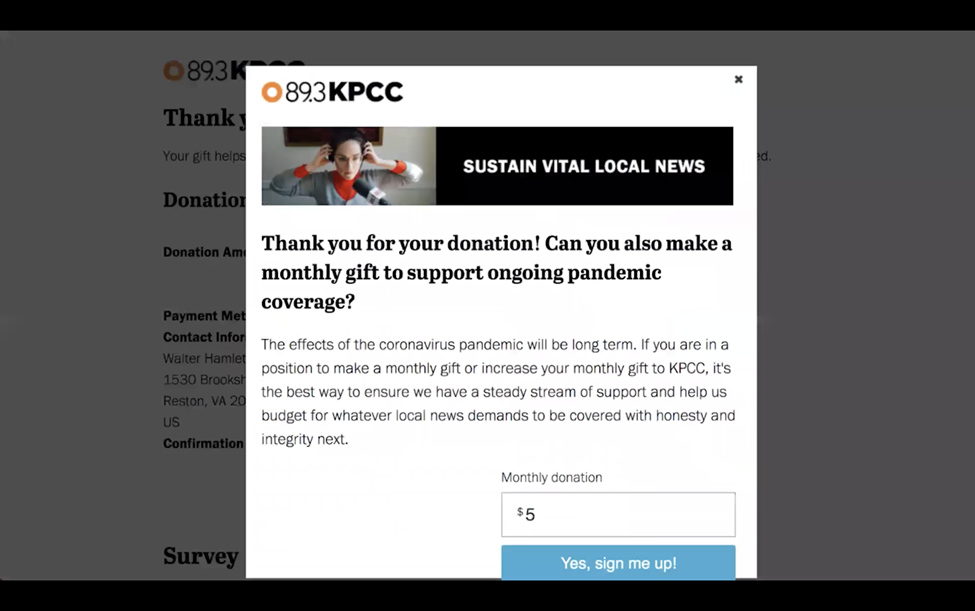 Boost Engagement After a One-Time Donation
When a supporter makes any kind of donation, they're signaling that they value your mission, which is a great starting point to build deeper engagement. But, in NextAfter's sample, 7 out of 10 PBS stations and 5 out of 10 public radio stations offered no additional action or options immediately following a donation to increase engagement.
Springboard's fully customizable thank-you pages can include text, video and embedded forms that can be used to capture data, such as surveys, email preference forms and more.
Minnesota Public Radio's thank-you page encourages donors to share their feelings and opinions about their stations; allows donors to choose to be thanked on-air; and share the reasons for their donation.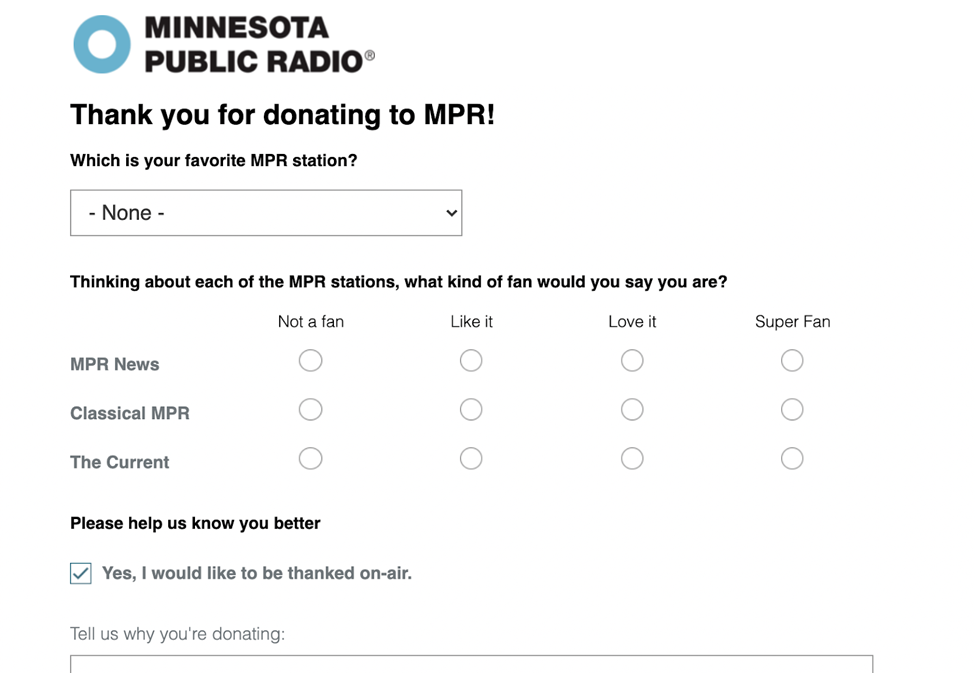 We hope these recommendations and data-backed insights are helpful! If you'd like to continue the conversation, reach out to me at Seth.Merritt@jacksonriver.com or schedule a demo.