Salesforce & Donation Processing: What Nonprofits Should Know
| Written by
Seth Merritt
|

Back

It's becoming increasingly important for nonprofits to understand the back-end processes of digital donations, especially during a time when the majority of supporter interactions occur online.
Donation processing impacts every aspect of your nonprofit's strategy. For example, your donation processing system determines the type of data your organization collects about your supporters, driving the level of personalization and outreach you can support. This directly impacts your donor engagement and cultivation strategies, translating into stronger relationships and increased revenue over time.
Plus, it goes without saying that security is a critical part of your donation processing system. Data breaches that place payment and personal information at risk can create long-term damage to your reputation.
Learning more about donation processing as it relates to the rest of your toolkit will allow you to streamline your operations, collecting donations more effectively with minimal lag time.
In this guide, we'll cover the basics of donation processing and specifically how it functions with the Salesforce Nonprofit Cloud.
Navigation:
With a well thought-out system and the appropriate background information, your organization can ensure a secure and effective donation process, storing relevant data in Salesforce to help enhance your fundraising effectiveness. Let's get started to learn more.
Salesforce is the world-leading CRM solution for a number of reasons, chief among them being the platform's high level of customization. Organizations, nonprofit and for-profit alike, are able to customize their solutions to include the exact tools and functions that are necessary to effectively run their unique operations.
Salesforce has apps, tools, and integrations that enable payment processing. We'll provide an overview of how donation processing generally works and then dive into what it specifically looks like for the Salesforce Nonprofit Cloud.
Payment Processing Overview
From the perspective of the consumer, when you shop online or make a donation to a worthy organization, you typically enter a long string of numbers from your credit card into an online page. Then, the money is magically taken from your account and you receive a confirmation email that verifies the payment was accepted.
On the backend, however, there is a lot more that occurs for the money to be safely taken from your account and transferred to the account of the organization which you pay. The donation process generally looks something like this: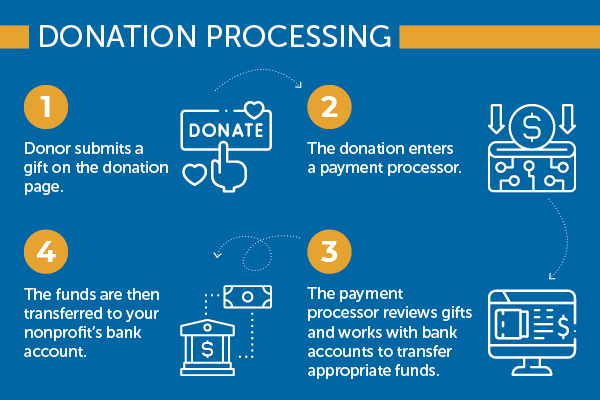 The donor submits a gift on the donation page. Make sure your donation form is as streamlined as possible, collecting only essential information. This ensures your supporters get through the donation page as quickly as possible, decreasing the chances that they'll abandon the process halfway through.
The donation enters a payment processor. The payment processor helps detect potential fraudulent transactions or invalid requests.
The payment processor reviews gifts and works with bank accounts to transfer appropriate funds. Your organization's payment processor then receives the information and the funds are deposited into a merchant account set up by the processor. Your organization's payment processor tool or service should provide this mediary or merchant account.
The funds are then transferred to your nonprofit's bank account. The transfer begins between the merchant account and your nonprofit's bank account so that you'll have access to the funds.
The process outlined above describes the general flow of funds when a payment is made with a credit card through a standard third-party processor. However, if your organization decides to use ACH payments, this has a slightly different process.
ACH payments allow your organization to move funds directly from one bank account to another without interacting with a credit card company. Instead, the funds are directly transferred through the ACH network. The major advantage of ACH payments is that they can be completed with lower processing fees, and are more reliable for on-going recurring payments.
Donation & Payment Processing for the Salesforce Nonprofit Cloud
When you invest in donation forms and fundraising systems, you'll have access to the payment processors they use to translate online transactions into funds in your account.
When you consider investing in (or switching to) software that allows you to collect payments from your supporters, ask about the payment processing options that are available for that system.
Many donation software solutions have agreements with processors such as Stripe or Plaid, but they may offer options that you can choose from. You may also encounter solutions that offer their own payment processors. Moreover, they can also help you keep track of payments for your organization. A fundraising system with its own payment gateway should offer features such as:
Batch and single gift processing. This means you can set up your system to either send donations one at a time or in batches to speed up the process.
Data reconciliation. Make sure your finance and development teams are on the same page by reconciling data between your CRM and payment processor.
When you're considering your processing system, the two most important things on your mind are likely fees and security. Associated fees directly impact your organization's fundraising capacity, and security features are necessary to ensure your organization maintains a trustworthy brand name in the industry.
Processing Fees
The fees associated with payment processing may be include flat rate transaction fees, percentage-based processing fees, and platform fees. You may have a blend of these types depending on if you're offering credit, debit, or ACH payment options for your donors. It's also common for processors to charge incidental fees for refunds, chargebacks, deposits, etc. If you have questions about the fees you are paying, you can always request a processing statement from your current provider to take a closer look at the true overall cost.
The best way to minimize the impact of processing fees of any type is to find a system that offers "cover my processing fees" options to supporters. That way, when supporters give to your organization, they'll have the option to give just a few dollars more to cover the fees and ensure your mission retains their entire intended gift.
Security
When you have an integrated donation system that shares donor data with your Salesforce CRM, another concern that should be top-of-mind is how that data is kept safe, especially payment information. Before investing in a donation system, be sure to ask if credit card information is stored, how it's secured, and who can access that information.
Payment information needs to be encrypted, so that no one has direct access to it, including the donor themselves. Look for payment processors that follow PCI compliance standards, meaning they take additional protective measures to keep your donors' information secure. that only a limited number of people have access to it, including the donor themselves.
A donation system that's completely integrated with your Salesforce CRM allows you to collect information about your supporters during the payment process. When a supporter initially fills out the donation form on your website, you should have the option to add customized questions to gather key information about that supporter.
Be careful not to overload your form. Creating a form that's too lengthy can cause donor abandonment during the donation process, meaning they leave your form before submitting their gift. One or two quick and easy additional questions can provide additional insight about your supporters without overwhelming them with too many inquiries.
You can also track how supporters find your website and the steps they take to reach your donation form. Source coding allows you to monitor user behavior on your website, including what internal links users are clicking on.
The data collected through source coding can help illuminate if your donation process has any drop points, such as page abandonment before reaching your donation form. You can then use this information to further optimize each page in your donation process to guide more users to your donation page and increase the likelihood that they will complete their donations.
Type of Information Collected
When a supporter donates to your organization through a Salesforce-integrated donation page, your donation management system should automatically create (or update) the profile for that donor. Some of the information stored in that profile can include (but is not limited to) the following:
Contact information. When donors initially fill out your donation form, you'll ask for their email address and physical address. This information should be stored in Salesforce, allowing you to send an initial donation confirmation message as well as future marketing materials.
Payment information. Again, check with your providers to see if and how payment information is stored in the system. There should be levels of encryption or tokenization to ensure the safety of your supporters' financial information.
Gift size. Make sure you know how much donors give, and especially how that amount changes over time. The nonprofit average gift retention rate is around 48%, compared to an average 45% donor retention rate, meaning that donors give more and more as time goes on. Therefore, watch for increasing gift sizes over time in your CRM as donors continue to contribute. With a CRM like Salesforce integration with your donation processing platform, you can monitor gift size and suggest increasing custom gift amounts over time to your repeat donors.
Gift frequency. In addition to watching for the size of donations over time, the timestamp of donations allows your organization insights into gift frequency. Be sure to offer supporters the option to give on a regular basis through recurring donations, allowing for more consistent giving.
Geographic information. Collecting information about the geographic location of your supporters has several purposes in nonprofit strategy. For instance, it can help you reach out to supporters about local events in their area or help identify local representatives during advocacy campaigns.
These data points are by no means the only information you can collect through your donation form. Adding custom fields empowers nonprofits to personalize donor journeys to increase donations, convert one-time donors to sustainers, and collect additional engagement data.
This information is not directly tied to the processing of payments through third-party processors, aggregators, or the ACH network. However, it's important to recognize what information is collected and stored in Salesforce compared to what is sent through these donation processing systems.
All of the information listed above can be stored in your Salesforce CRM for your team to access, while financial information is encrypted and stored in the system without allowing access to anyone, even the processors or the relevant donor.
How You Can Use This Data
Your donation system should automatically deliver complete and accurate donor data to be stored in your powerful Salesforce CRM. From there, you can use the data to encourage supporters to become more engaged with your mission and organizational efforts through data-driven marketing strategies.
Using your data effectively allows you to go past simply addressing donors with a more specific salutation than, "dear donor." It also allows you to draw on more personal information in the donor's profile to create specialized fundraising asks or dynamic gift strings, directly related to their donation history.
Effective and accurate data collection supports a "digital-first" approach to engagement, enriching donor records and detailed information. You can also build out this approach with information from other online donor actions including peer-to-peer fundraising, advocacy efforts at the local, state and national levels, and event registration and attendance.
In addition to customizing and personalizing your outreach through donor information, you can also use the information from the first step of your donation process (when a donor completes the donation form) to collect trend data to optimize your donor-facing donation process.
The more complete your data is, the greater potential you have to identify fundraising trends and opportunities for organizational improvement.
Although your donation forms and CRM are technically two separate systems, with payment processing taking place behind the scenes, they are highly related and relevant to enabling a well-designed fundraising strategy.
Choosing the best integrated donation tool for Salesforce is the first step to ensuring a well-designed fundraising system. We recommend Springboard.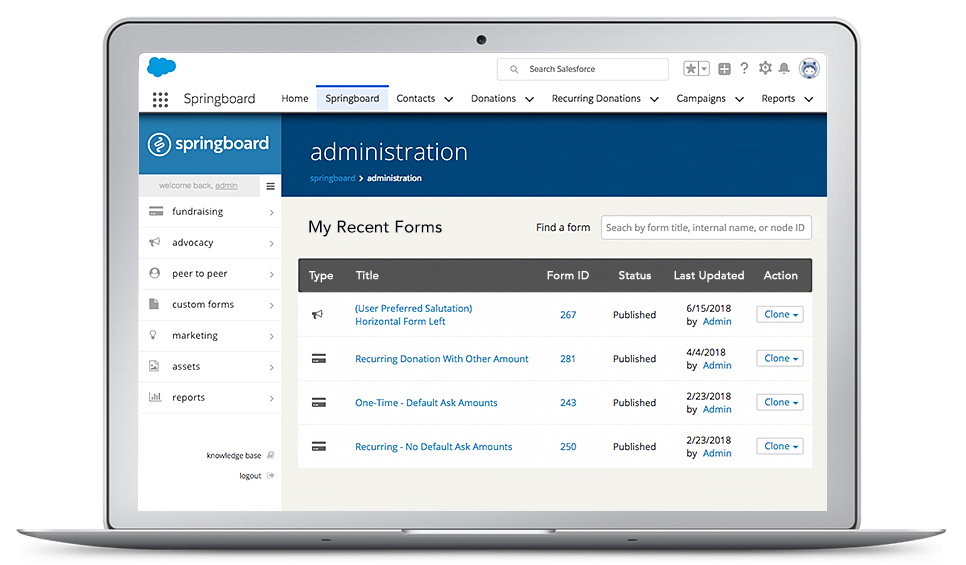 Springboard offers exceptional donation and digital engagement tools that integrate seamlessly with the Salesforce Nonprofit Cloud. With this complete and comprehensive digital-first system, you can encourage donors to get involved with every element of your online engagement programs, from fundraising to peer-to-peer to advocacy campaigns to event registrations. Every step of the way, you can collect engagement information that will help bolster your fundraising strategy and keep supporters engaged for the long-term.
When it comes to payment processing with Springboard and Salesforce, your organization will have access to Springboard Payments, a payment processor that offers security to supporters and options to boost your fundraising strategy. For instance, you'll gain access to:
Batch and single gift payment processing
Recurring payment options and donor-controlled sustainer options
Online donation processing
"Cover my processing fees" options so you receive your full donation
Financial reconciliation reports and superior fraud monitoring from trusted tools such as Radar.
Springboard puts your organization's content and data first. The Springboard difference means that you'll have access to everything you need to not only integrate a completely built-out fundraising system with your Salesforce CRM, but also continuously improve through the collection and analysis of data.
---
From the first time a donor reaches your website to the time when their contribution is fully accepted and their funds enter your bank account, you can rest assured that your donation system will support your fundraising strategy.
Donation processing is an important part of your fundraising strategy, often dictating the fees you'll encounter and the security you can expect for highly sensitive donor information. Understanding this process and how it interacts with your other software, like Salesforce, will help your organization make the most of your fundraising strategies, minimizing fees, maximizing security, and optimizing your donor-facing process.