Giving Tuesday 2020: Strategies, Outcomes & What's Next!
| Written by
Seth Merritt
|

Back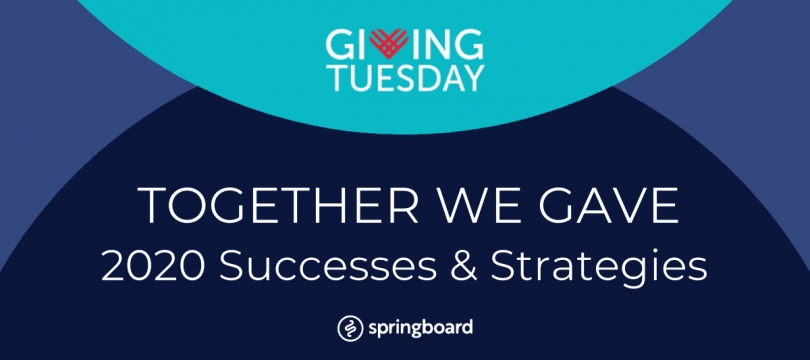 Success! Donors have been stepping up in amazing ways in 2020, and this continued with Giving Tuesday. According to GivingTuesday.org, total giving increased from $1.97 billion to $2.47 billion in the United States—a 25% increase over Giving Tuesday 2019.
For Springboard clients, the year-over-year increase was even larger. Excluding clients new to the Springboard platform, our clients showed an aggregate revenue growth of 32% on Giving Tuesday 2020.
Reviewing the national results as well as those of our clients, we noticed these trends.
(Gift) Matches Light the Fire of Generosity
Most nonprofits (on Springboard or other platforms) leveraged gift matching, a time-honored tactic for increasing donations and creating a sense of urgency. Match multiples ranged from 2x (1:1), to 3x, 4x, 5x, and even 8x.
WCS used a 3x match and countdown timer on Giving Tuesday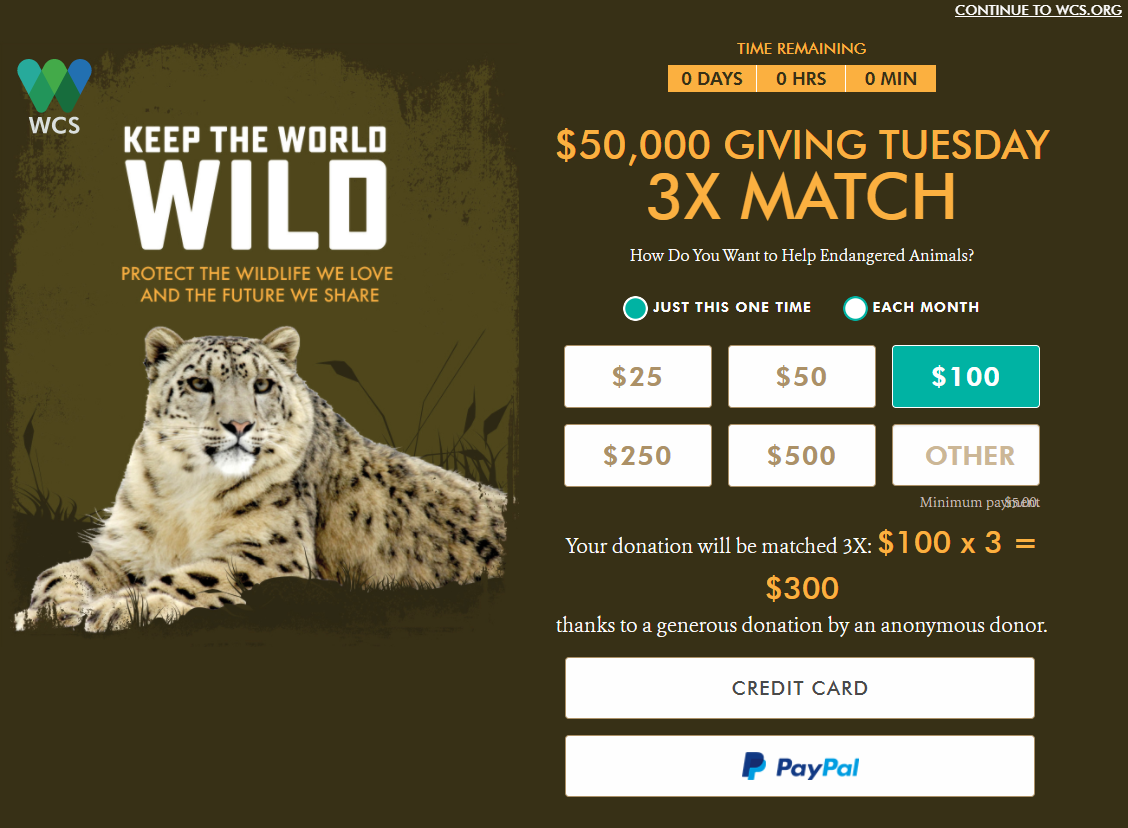 American Jewish World Service used a lightbox on the home page to drive awareness of matching funds available only on Giving Tuesday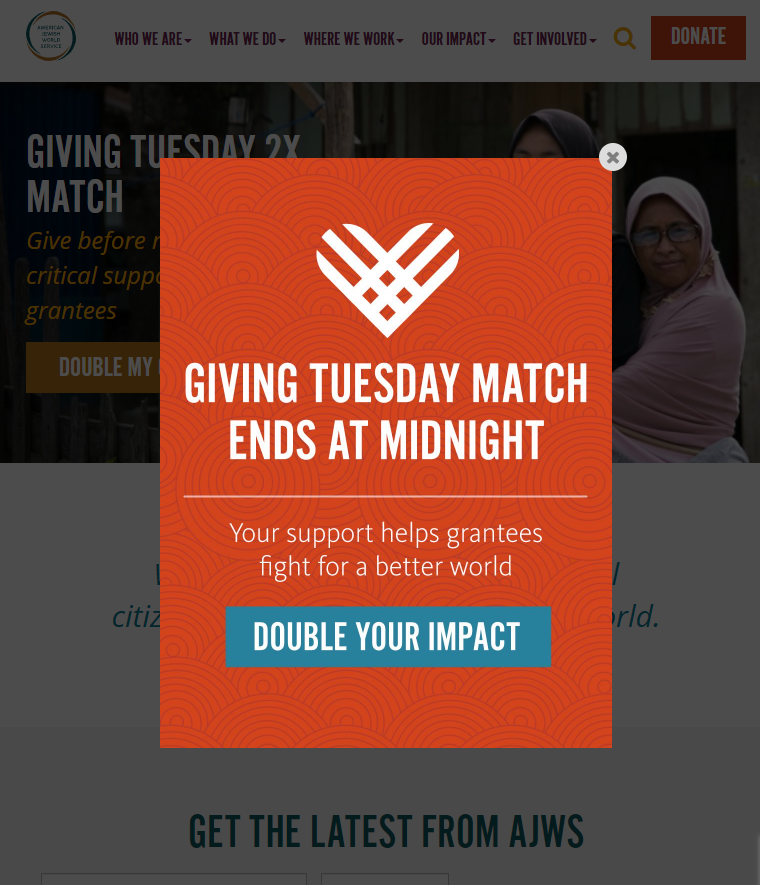 Sustainers
While most nonprofits sought to maximize single-day revenue by asking for one-time gifts, some organizations set their sights on new sustaining (monthly recurring) gifts. One organization that took this approach netted a 3x increase in sustaining gifts over 2019. Even though a sustainer-focused approach may yield lower single-day revenue, elevated sustainer giving can substantially increase total revenue across a 24-month period.
Other clients leveraged sustainer upsell features to encourage one-time donors to add a sustaining gift as part of the donation process. (For more information about increasing sustainers, check out this article.)
Drug Policy Alliance asked one-time donors to convert to sustainers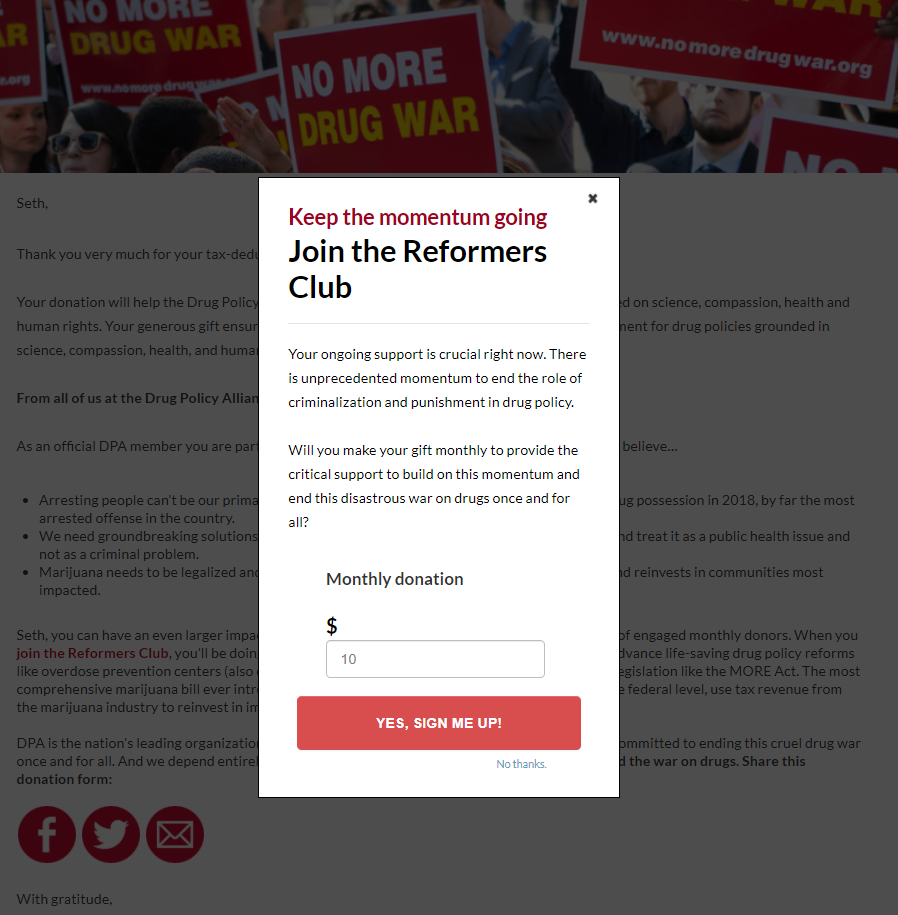 Public Media and Giving Tuesday
NPR and PBS affiliates have their own rhythm of pledge drives for fundraising, typically including a week-long drive in early December. Stations are taking varied approaches to including Giving Tuesday. Some are including Giving Tuesday as part of the drive, or a kick-off event, with digital and on-air messages. Other stations have positioned their pledge drives the following week so as not to compete, while mentioning Giving Tuesday and making soft asks during station breaks.
Competing for Awareness?
Because World AIDS Day is always December 1, Giving Tuesday sometimes falls on the same day. We couldn't find data to show whether the competition for awareness was positive or negative for fundraising results, but it likely creates messaging challenges for organizations that participate in World Aids Day to include both in their communications; to split between Giving Tuesday and World AIDS Day; or skip Giving Tuesday altogether when both events fall on the same date.
What's Next?
As fundraisers focus on the final year-end push, we hope the trend of generosity continues. If you're interested in further honing your year-end fundraising, this article offers evidence-based tactical recommendations for the final days of the year. (The article is based on a webinar for public media organizations, but the tactical advice applies to any nonprofit's year-end fundraising.)
If you'd like to discuss your Giving Tuesday results or learn more about how Springboard can make your fundraising more effective, please let us know. And to all the fundraisers, keep up the great work! Your fundraising success and the work it supports is inspirational at the end of a complicated year.