Trends in Public Media Fundraising
| Written by
Megan Farrington
|

Back
Public media stations around the country rely on Springboard's digital fundraising solutions, and product manager Megan Farrington identifies new features and functions to keep our clients in the vanguard of digital fundraising. As a result of her hands-on experience, she's an expert on current trends in public media fundraising. With #PMDMC2021 coming up, we asked her about changes she's seen in public media fundraising over the past year.
Q: Over the past year, have you noted any shifts in public media fundraising as a response to COVID?
A: For some stations, donations slowed down when the COVID pandemic started, depending in part on whether or not they paused their fundraising efforts. As a whole, public media organizations continued efforts to increase sustaining donations. At least one large station set a fiscal-year goal of increasing the number of sustaining donors. But it's not just about converting one-time donors to sustainers—it's also about retaining sustainers, and increasing the dollar amount of existing sustainer donations.
Q: What tactics are stations using to convert one-time donors to sustainers?
Continuing a trend we've seen in recent years, many public media stations—including Springboard clients—are setting the default on their donation forms to monthly donations instead of one-time donations. Just that simple change can increase the total number of new sustaining donations. Many organizations vary the default between monthly and one-time to satisfy pressing financial targets at appropriate times.
Some public media organizations are leveraging premiums to attract and retain sustainers, especially during pledge drives. At the request of one of our public media clients, we're planning to roll out a new feature this summer that empowers stations to make specific thank-you gifts available only when the donor commits to a recurring donation. These sustainer-only premiums will be styled to stand out on the form, reinforcing the message that being a sustaining member has special benefits.
Minnesota Public Radio's donation form defaults to a sustaining donation with a value in the middle of the options.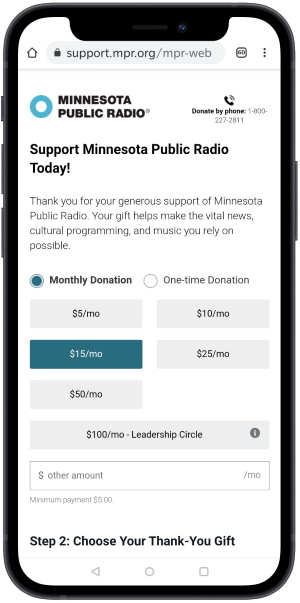 Q: How are stations increasing the value of sustainer donations?
A. We're seeing a number of successful strategies to increase the dollar amount of sustainer donations. Some stations are rolling out renewal campaigns to convert annual one-time donors to an annual sustaining donation. The focus here is on formalizing the ongoing connection with repeating annual donors so you can more effectively nurture the long-term relationship.
Stations are also having success reaching out to current sustainers with a personalized ask to increase their recurring donation. Springboard makes this easy with "one-click" sustainer upgrade campaigns, where stations can send out links that allow donors to increase their ongoing amount without re-entering any information.
Some Springboard clients are going a step further and offering thank-you gifts for donors who upgrade on the form where they increase their giving amount. That feature will be coming to Springboard later this year.
Another idea our clients have been exploring is the use of online forms to enable existing sustainers to claim a thank-you gift without making a new donation. At many stations, this is currently a labor-intensive manual process, and we are investigating ways that we can craft an engaging and effective self-serve experience.
We know that there is debate in the public media fundraising community about the use of premiums (thank-you gifts). Our goal is to provide a flexible platform for public media organizations to innovate and find the best ways to build valuable long-term relationships with their supporters.
KPCC's donation form defaults to the lowest sustainer donation amount. If a donor selects a one-time donation instead, the premiums update to display the minimum eligible one-time donation.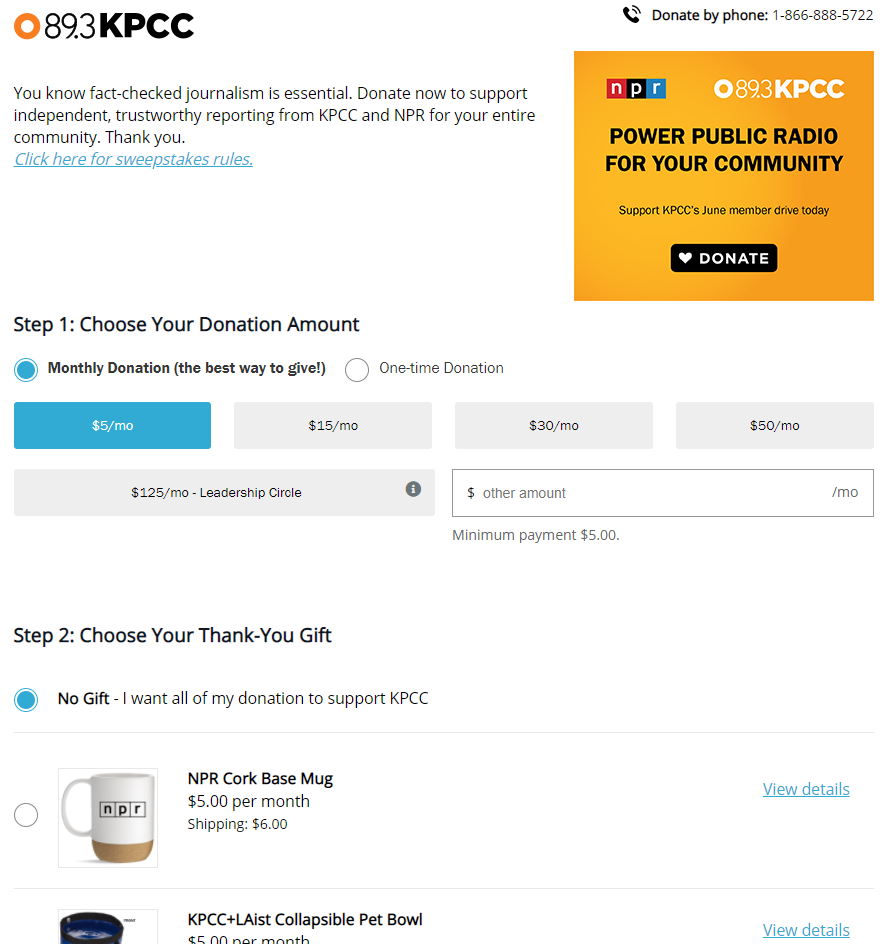 Q: Now that the worst of the pandemic may be over in the US, are COVID-related changes here to stay?
A: For several years, there's been a growing move toward creating a robust digital ecosystem for donors, both leading up to the donation and also throughout the long-term donor relationship. The pandemic brought the digital experience to the forefront for stations of all sizes, especially larger stations that historically may have relied on in-person events to keep their members connected and engaged. The audience for digital content and engagement grew, and they're likely to expect the expanded digital experience to continue.
Access to digital benefits like Passport and podcasts are more important than ever. One of Springboard's sometimes-overlooked cool features is support for donors to access a pledge-free digital content stream when they make a qualifying gift during a pledge drive.
Also, the importance of a powerful, easy-to-use donor portal can't be overstated—in 2021, donors expect to be able to update their contact information, view their giving history, adjust their recurring donations and print receipts without needing to call or email donor services.
----
If you have any questions, comments or insights to share, let us know at sales@jacksonriver.com. To learn more about our public media fundraising solutions, visit Springboard for Public Media or book a demo.
We're proud to be a #PMDMC2021 sponsor this year, so drop by our digital booth during the conference!