How We Gave on #GivingTuesday '18
| Written by
Alice Hendricks
|

Back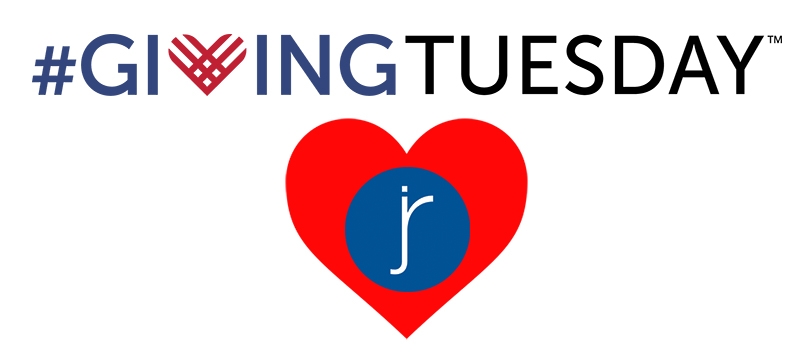 One of my very favorite Jackson River traditions is staying up late on Giving Tuesday and making the matching donations to the incredible organizations our staff supported.
Here's a selection of who Jackson River donated to, and why, in their own heartwarming words:
Brennan Center for Justice (Megan)
Protecting democracy feels particularly urgent at this moment when our country is being led by an administration that doesn't respect the rule of law and a Congress that won't act as a check.
Capital Area Food Bank (Chris)
Though I live in one of the most affluent regions of the country, 16% of the DMV population is at risk of hunger. That's crazy! So, I am supporting the Capital Area Food Bank on #GivingTuesday because they are best positioned to meet the challenges of food insecurity and increase access to healthy foods for those in need.
Eyes Ears Nose and Paws (Matt)
I've donated to EENP, a local non-profit that trains assistance dogs and matches them with partners. These dogs drastically improve the quality of their partners lives, helping them with mobility, medical alerts, and other tasks. EENP also works with inmates at a local prison.
Freedom, Inc. (Laura)
Freedom, Inc. is a Madison, WI, organization working specifically and directly with local, low-income communities of color. Their members are directly connected with the communities they serve, which aids in redistribution of wealth within a highly segregated city, as well as allowing Freedom Inc. to work efficiently and in good faith.
Greater Portland Family Promise (Misty)
Greater Portland Family Promise organizes interfaith communities to host homeless families for extended stays, including childcare, job training and support, rides, and other services for as long as a family needs to find housing and get back on their feet. They are addressing homelessness in Maine in a unique, compelling, personal and ultimately sustainable way.
Medford Food Project (Cameron)
The Medford Food Project provides bags and coordinates the effort of making it extremely easy and painless to donate food to those in need. Every two months, neighborhood coordinators pick up "green bags" that are left out by donors in their neighborhood and the Medford Food Project team distributes all the food collected to local food pantries. Each month donors give on average between 25-30 thousand pounds of food that are distributed to local food banks. I have worked with the Medford Food Project as a neighborhood coordinator for 7 years and it's been a really wonderful experience seeing people so generously donating their time, energy, and resources to help people in their community with meeting their basic needs.
Boston Cyclists' Union (Alan)
The BCU does education & outreach in some underserved areas of Boston (Roxbury, Dorchester) and also has a Bike Market Program that goes to various farmer's markets and repairs people's bikes for free or whatever they are willing to give, if able. Also, on a sadder note, there was recently a fatality of a grad student while he was riding his bike down a busy corridor in Cambridge. There have been too many of these over the last few years. The BCU advocates to improve the safety on/along important corridors in the greater Boston area ... which, for an old, crowded city built with almost no planning or foresight and a crippling public transit system, is super important.
National Immigrant Justice Center (Jenn)
I donated to the National Immigrant Justice Center because they are doing vital work on reuniting those subjected to family separation and providing legal assistance and support to asylum seekers, immigrants and LGBTQ immigrants.
Native American Rights Fund & Redhawk Native American Arts Council (Shannon)
I actually donated to two places for Giving Tuesday, the Native American Rights Fund and the Redhawk Native American Arts Council. November is Native American Heritage month, and I had no idea. I've learned a lot about Native Americans from my boyfriend, whose family is Algonquin. I've been thinking differently about the narrative around Thanksgiving and how hidden and abused indigenous populations around the world continue to be. So, I wanted to support two organizations that are protecting and promoting Native Americans. Plus the Redhawk Native American Arts Council is local, helps host the biggest Pow Wows on the east coast and is a mile away!
North Valley Community Foundation's Campfire Relief Fund (Kara)
I chose this organization because Paradise is my college friend's hometown. Her parents were lucky to escape with their lives while their home - the house she grew up in - burned to the ground. There is literally nothing left but the chimney. It is probably a stretch to hope that this disaster will be a wake-up call about the realities of climate change, but we can at least provide some hope to the people who are struggling to recover from it.
Ocean Cure (Phillip)
I made a donation to Ocean Cure, a local charity here in Carolina Beach, NC, that helps people with disabilities enjoy some of my passions, namely the beach and surfing. I got a chance to volunteer alongside them this past summer and helping people who would otherwise not be able to access the beach, let alone surf, was amazing. The energy, smiles, and the pure joy expressed by the participants was so incredibly uplifting and inspiring.
RAINN (Jess)
I followed the Kavanaugh nomination pretty closely as it happened. When he was ultimately confirmed as a Supreme Court Justice, many people I admire encouraged donations to RAINN. I donated at the time and am donating again for Giving Tuesday.
Second Chance Foods (Niki)
For Giving Tuesday I donated to Second Chance Foods, Inc., a local non-profit that rescues food from the waste streams of farms, grocery stores, and restaurants, and gives it directly to folks who need it via food banks and other local channels. I chose this organization because strong, resilient communities are built from the ground up, and this is a great example of ordinary people rolling up their sleeves to solve a problem and help those around them.
Montgomery County Humane Society (Alice)
Personally, I donated money (and towels) to the local animal shelter in memory of my partner Tom's mom, Joanne Williamson, who died this month. Joanne loved her pets, but especially her two cats, Sassy and Bob. There are so many great causes, both global, domestic and local that I also support, but if we were to all care for each other and the animals the way Joanne cared for those around her, the world would be a much kinder place.