The Joys of Digital, Flexible Work
| Written by
Ben Clark
|

Back
In 2010, I was employed at Florida State University as an IT coordinator in a role that was inextricably linked to being in that office, 8 hours a day, 5 days a week. When my wife and I wanted to move to Washington, DC, I had to turn in my resignation. I couldn't take my job with me.
Four years later, and as a Jackson River employee, I wrote the following email to the founders: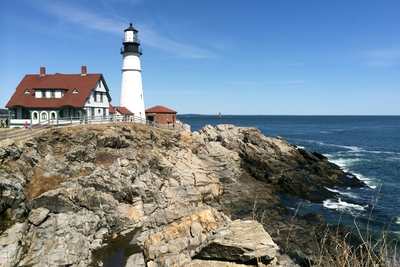 "Big news: Maggie and I are moving to Portland, Maine in February!
I know there's going to be some HR paperwork to take care of, so let me know if there's anything I can do to make that as painless as possible."
The response received ranged from "congratulations!" to "we're going to miss you here in DC!" but my job was never in question. The quality of my work would go unchanged, and I would be just as engaged with my day-to-day responsibilities at Jackson River. The only change that happened in my working world was my mailing address (and some tax forms, of course).
This is the joy I've come to know of digital, flexible work.
A Geographically Diverse, Cohesive Digital Team.
Working at a virtual company doesn't mean you have a blank check to work whatever hours you want. As a full-time employee, you do have a responsibility to keep regular hours and to have a reliable home base. In that sense, our workdays are not that dissimilar from those at any other office job.
But with virtual work, we get to define the environment that surrounds our workday. A developer can live somewhere where they can enjoy the sunset over the ocean. A project manager can go for a 3-mile trail run at lunchtime. We can spend our Saturday mornings at a farmer's market in downtown DC, or kayaking Class III rapids. We can configure our lives independently of our work. We can choose to live in our All-Time Favorite Place without sacrificing career opportunity.
My Personal All-Time Favorite Place? Maine.
So why did my wife and I choose to move to Maine? Probably for the best reason you can move anywhere: because we'd vacationed there, fell in love with its natural beauty and wanted to come back as soon as possible. Thanks to the flexibility of our working lives, we didn't have any reason not to try something new and unexpected.
This is a truly revolutionary experience for the two of us, and we don't take it for granted. I recently tweeted, "Every once in a while I hear seagulls and I'm like, oh yeah, I live on the coast of Maine now." I'm incredibly lucky that this has all worked out.
My co-workers might be peppered across the country in their own Favorite Places, but we're united by our appreciation of the work culture we're lucky to enjoy at Jackson River.
Are you interested in learning more about our work, our culture, and maybe even joining our team? We're always looking stellar talent for these positions, and are happy to chat about what we do.