#21NTC Greatest Hits!
| Written by
Seth Merritt
|

Back
And just like that, the 2021 Nonprofit Technology Conference (NTC Everywhere) is over. It's hard to believe how quickly the three days flew by!
The NTEN team deserves thanks and praise for all the work they put into the conference, which was a triumph against many obstacles. We are inspired and renewed in our commitment to provide fundraising and advocacy technology for social good. #22NTC cannot come too soon! :)
NTC 2021 kicked off with an authentic, personal welcome from NTEN CEO Amy Sample Ward (after technical difficulties with a prerecorded message) and moved into a powerful keynote by Ruha Benjamin. It was a clear-eyed demonstration of the many ways that gender and racial bias are woven into our technology landscape through machine learning, hiring decisions, facial recognition, surveillance capitalism, social networks, and more. It was also an inspiring call to weave new patterns of justice and opportunity into our technology, our organizations, our work, and our lives.
Although a virtual conference can never fully replicate the in-person experience, NTC Everywhere had its advantages: no travel costs or hassles, lots of pets and children co-attending, and attendees sampling more than one concurrent session without having to sneak out of a conference room (yep, we've all done it). No IRL parties = no sleep deprivation or hangovers either. The incredible content is recorded and will be available for another three months! So, without further ado…
NTC 2021 Greatest Hits
We were happy to see that several of the nonprofits who presented at NTC (ASPCA, AJWS, KQED, Open Doors USA, Wildlife Conservation Society) use Springboard for digital fundraising and advocacy. Please note that the session recordings are currently only available to 21NTC registrants. If you didn't register but would like to know more about the session content, or if you have any questions about how your organization can succeed with similar technology initiatives, please let us know!
"More Data, Not More Problems: New Approaches to Data Hygiene"
Our own Jennie Corman, Chief Operating Officer, presented with American Jewish World Service and Open Doors USA on data integration strategies during migrations and beyond.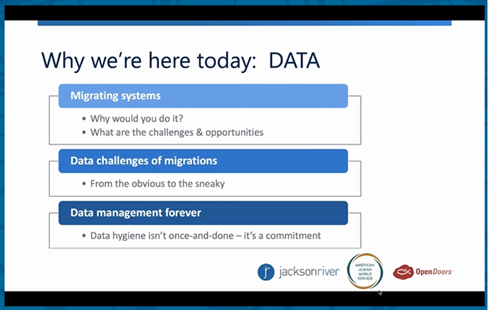 "How Tech teams and Fundraising teams can partner for success"
Fundraising and IT teams often have competing goals: integration and security are paramount for IT; speed and flexibility are essential to hit Fundraising goals. A discussion led by our friends at Cause Craft Consulting, featuring ASPCA, Share Our Strength, and Wildlife Conservation Society explored how to work through these inherent conflicts for fundraising success.
"Make it Monthly: Growing and maintaining your monthly donor pool"
KQED and Mal Warwick Donordigital presented a multichannel view of a large, successful monthly giving program, and how to improve sustainer tenure via stop-loss, upgrades, additional gifts, and stewardship.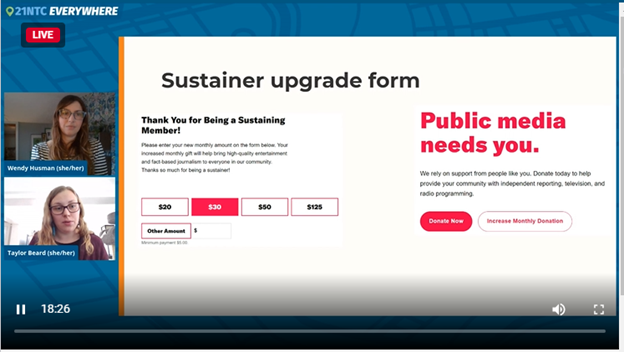 "Dashboards for All: Democratizing Data Across Large Organizations"
Another session that we found interesting was the collaboration of Dana-Farber Cancer Institute and The Trust for Public Land on major efforts to create dashboards for several functions, including fundraising performance against goals to overlaying wealth-screening data on high-engagement donors; they reviewed the process of engaging stakeholders to design the dashboards, as well as the visualizations themselves.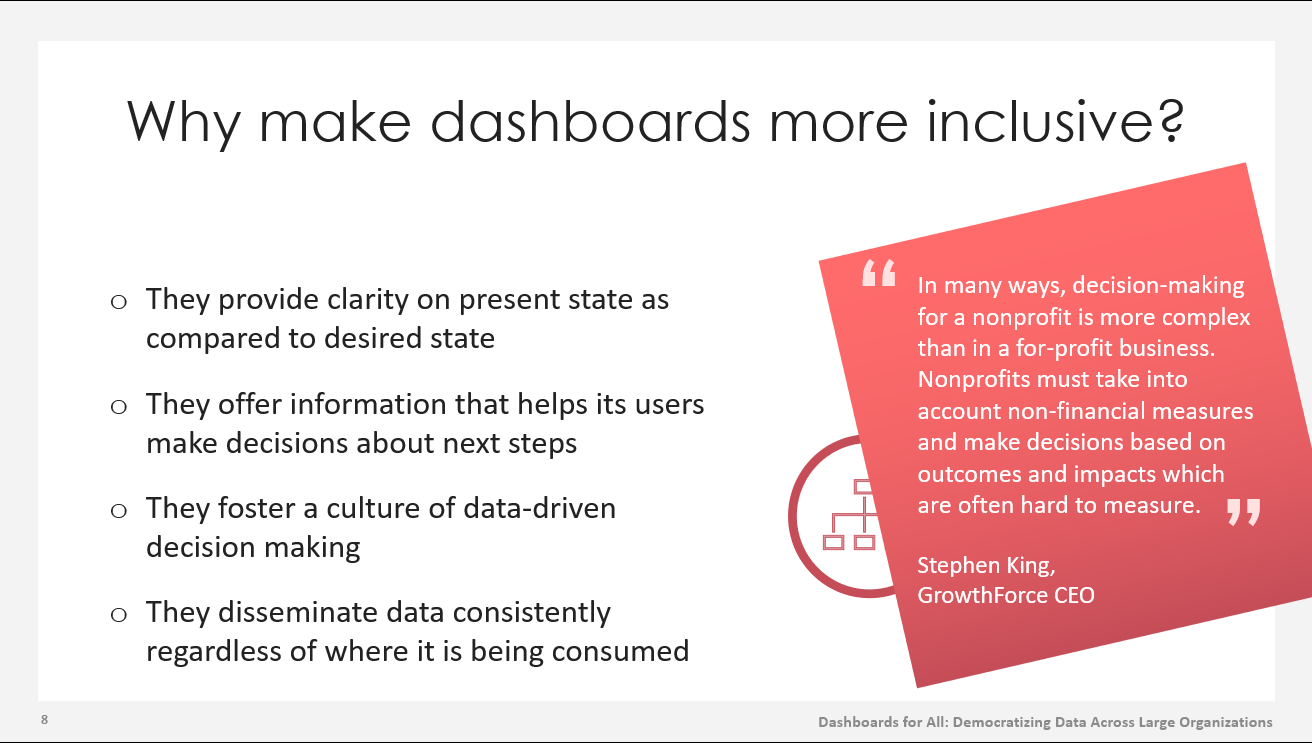 We <3 NTC
At Jackson River, NTEN's Nonprofit Technology Conference has a special place in our hearts – we launched at NTC 2008, and we've participated every year since. We remain committed to delivering innovative and effective ways to adapt technology to support the social good. We've marked our calendars already for NTC 2022: March 23–25, 2022, Denver, CO.
Stay well and see you (hopefully IRL) next NTC!