Software Solution Built for Passionate Nonprofits
Springboard is an enterprise-grade platform that helps power digital fundraising and advocacy efforts. It's built for nonprofits to engage, cultivate and retain supporters through digital-first technology.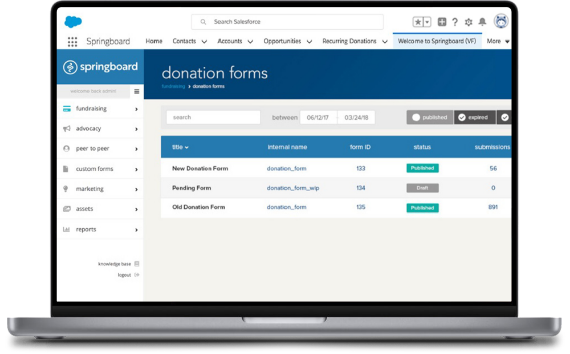 Features Created for Nonprofits
We are focused on creative engagement, sustainers, social, mobile, and data-driven insights.

Personalized Experience
Provide an authentic donor experience using customized engagement forms and targeted communications across marketing, fundraising and advocacy efforts.

Automated Sustainer Upsell
Quickly increase donations and convert one-time gifts to recurring with a built-in, one-click sustainer upsell option utilizing the Springboard Payments feature.

Insightful Analytics
Leverage data through source code tracking and custom tags across fundraising campaigns to better understand donor behavior and habits.

Customized Forms
Personalize mobile-responsive engagement forms, including email sign-ups, event registrations, RSVPs, waitlists, surveys, and more.

Amplified Social
Build social sharing into supporter experiences and track social sources to identify key influencers.

Mobile Optimized
Ensure supporter touchpoints are natively responsive for mobile, tablet, and desktop, with a mobile-optimized admin interface.

Data-Tracking
Easily add source code tracking, analytics, and custom tags to campaigns, providing real-time insights on supporter behavior.

Dynamic Content
Personalize interactions by automatically pulling in supporter interests and historical behavior to better drive messaging and profile-specific conversion opportunities.

Affiliate Content
Collaborate with affiliates or chapters by creating campaigns for one, many, or multiple groups.

Catalyze Action
Mobilize and promote engagement through creative social campaigns utilizing petitions and letter-to-target activity with legislators or other decision-makers.

Tweet-Friendly
Provide a convenient and efficient way for supporters to target decision-makers and take social action through our Twitter Integration.

Advocate Experience
Allow your established advocates to support or sign their names to petitions through one-click actions and easy social share.

Custom Targeting
Reach federal or state decision-makers with the most up-to-date government data and auto-districting through custom and saved target groups.

Digital Deliverability
Deliver supporter messages efficiently to critical decision-makers via the web, email, and CWC. View real-time delivery stats, with options to download signatures, pause, and restart campaigns.

Impactful Campaigns
Target decision-makers across the globe, build activist networks through peer-to-peer advocacy, track social reach, and report on your impact.

Assorted Forms
Offer supporters multiple ways to donate: one-time, monthly, peer-to-peer, DIY, honor/memorial, ticketed events, premiums, and designated gifts using one-step, two-step, and fully custom user flows.

Sustainer Upgrades
Convert one-time gifts to recurring through a convenient, built-in sustainer upsell. Increase gift amounts with automated upgrades, and promote retention with easy-to-use billing management options.

Peer-to-Peer Power
Empower supporters to fundraise for your cause through sleek, modern and easily configurable websites, landing pages and donation forms, share your nonprofit's mission with seamless social media integrations to audiences across Facebook, Instagram, YouTube and Twitch and build momentum through targeted automated emails.

Personalized Requests
Increase gift amounts with pre-filled forms and dynamic ask strings based on online and offline giving history, including multiple ask strings for one-time vs. recurring gifts.

Self-Service Portal
Allow donors to manage gifts through a secure donor portal, offering convenient gift updates, personal information updates, tax receipts, and access to complete historical records.

Payment Flexibility
Maximize the way supporters donate through secure payment choices, such as credit cards, e-checks, PayPal, Apple Pay, and more.
Is a Single CRM the Answer?
In our white paper, "In Search of the Holy Grail," we gain insight from pioneering organizations on the benefits of a single CRM from the nonprofit's point of view.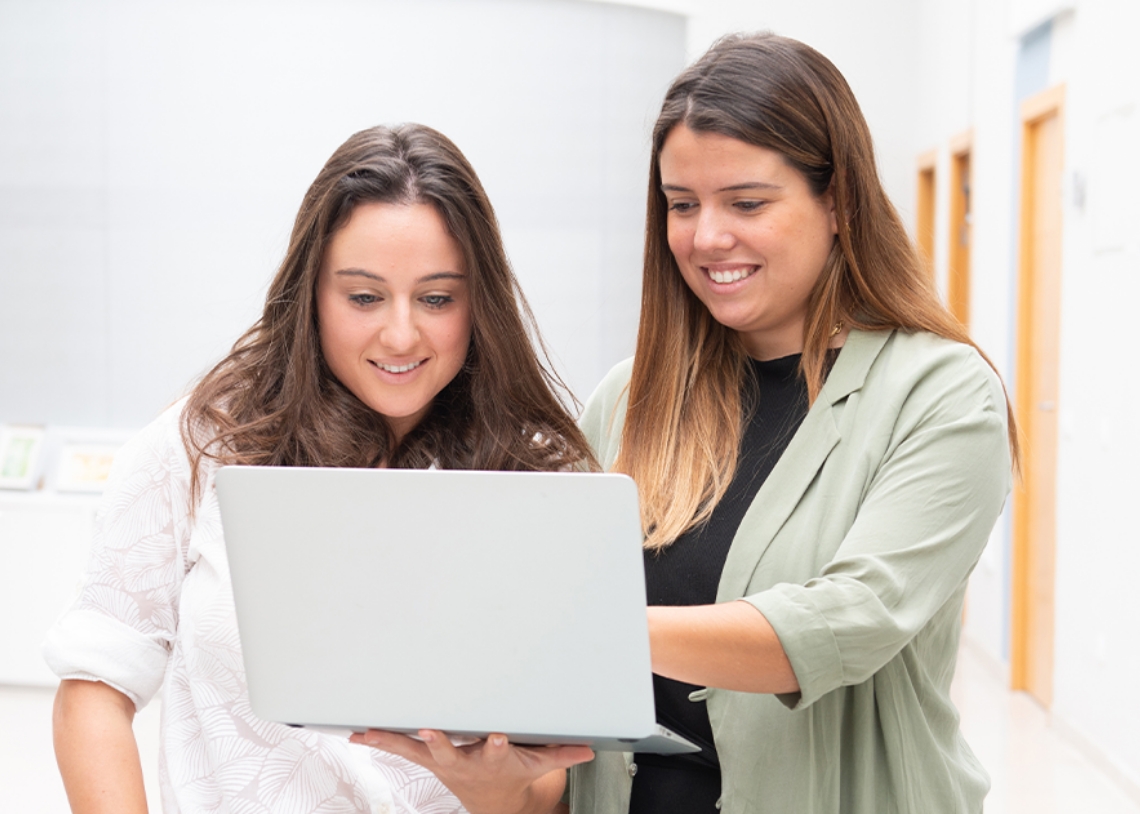 Built By Dedicated Nonprofit Veterans
Springboard, founded by passionate digital transformation consultants, benefits nonprofits in successful engagement experiences, fundraising campaigns, and advocacy efforts.

Digital-First Technology to Drive Your Mission Forward
Leverage Springboard's digital-first solution to enhance nonprofit fundraising efforts with our valued features:
Targeted marketing
Flexible & customizable forms
Sustainer upsell capabilities
Donor self-service portal
and more…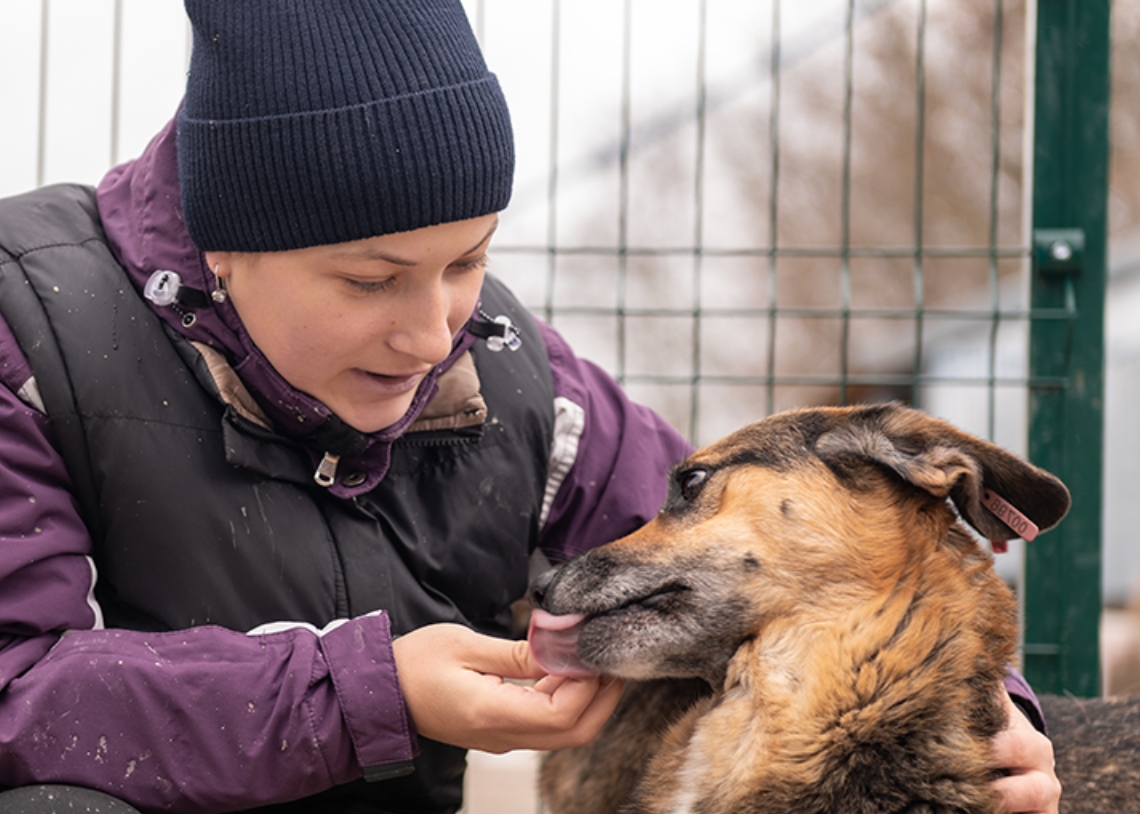 The ASPCA Raises $46.5 Million Online, In Only 3.5 Years
Since launching Springboard in 2013, the American Society for the Prevention of Cruelty to Animals (ASPCA) has relied on Springboard's solutions to drive impressive fundraising results, along with strong supporter engagement.
Feedback From Empowered Nonprofit Clients
"Our contacts at Jackson River are like honorary members of our Web team. They know and understand our organization, goals, and processes through and through. Our Account Manager is always coming up with new and better ways to approach issues and requests from a big picture perspective."
AYUMI STUBBS
Senior Director of Digital Marketing, ASPCA


Springboard Integrates Seamlessly With Your Current Systems
Springboard is fully customizable and integrates with the world's leading CRM, Salesforce, and other software products.
Our pricing model is transparent, easy to understand, and affordable. Organizations pay a single monthly platform fee based on the features they need (such as fundraising, advocacy, and peer-to-peer), donation transaction volume, and a services fee for set up and support.
Experience what Springboard can do for you…
Request your overview and demo of Springboard's solution today.