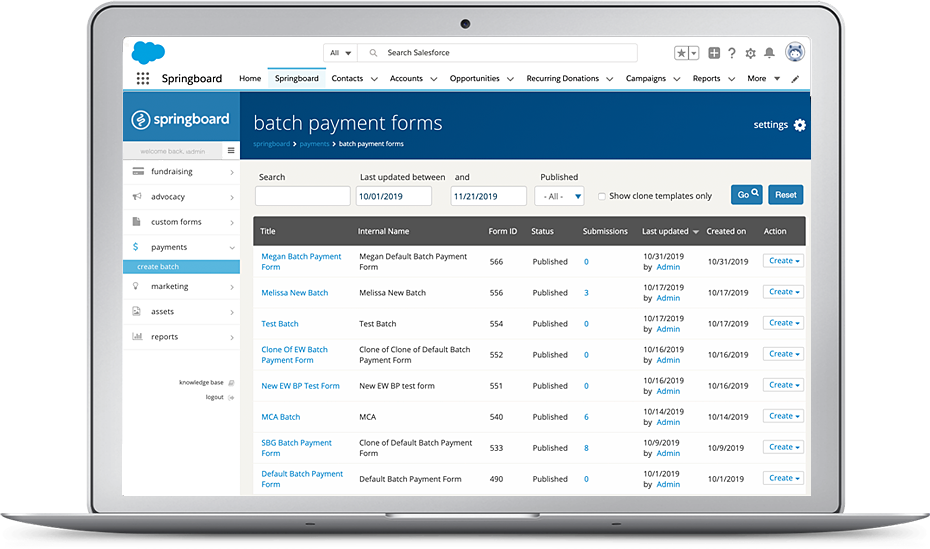 Springboard Payments is more than a gateway.
It's a modern way of treating payments, integrated with the ways you already work, designed to make your supporters' and sustainers' gifts as easy as humanly possible.
Competitive Pricing
We offer simple, competitive, nonprofit-specific pricing to match or beat your existing rates. No variable or hidden fees. No vendor lock-in or exclusivity.
Details
Sustainer Migrations
One of the hardest parts about migrating platforms and gateways can be the risk to a healthy sustainer program. Not anymore. We take a consultative approach and help you every step of the way.
1 Vendor, 1 Contract
Jackson River supports both the Springboard digital engagement platform and Springboard Payments. Get a consolidated contract and one support relationship with a team that knows you.
Donor Self-Service Gift Management
Your donors can manage their own sustainer gifts in Springboard – whether the donation was made online or offline. The Springboard Donor Portal enables your donors to upgrade their monthly amount, change credit cards, update their billing address and more, regardless of where the gift originated. They can also get receipts for both online and offline gifts in the Springboard Donor Portal.
Gift Management in Salesforce
Your staff can manage credit card gifts in Salesforce (refund, upgrade/downgrade sustainers, partial voids), regardless of whether the donation was made online or offline. With Springboard Payments, your gift management team can operate right within the Salesforce environment they are already used to. No need to log into a separate system.
Getting Started
Reach out to us. We'll provide a pricing quote. Getting set up on Springboard Payments is as simple as filling out an application. We'll configure your payment method(s), then work with you to make sure the money's flowing effortlessly through the systems.
We'd like to tell you more about Springboard - on an occasional basis.
We won't spam or bombard you.